Herman Cain accuser decides not to speak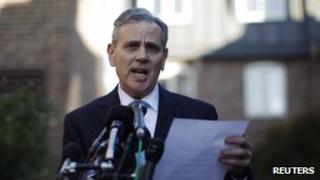 A woman who made a sexual harassment complaint against Herman Cain in the 1990s will not discuss the issue or her financial settlement, her lawyer says.
Joel Bennett said that his client "sees no value in revisiting the case".
Mr Bennett said that his client stood by her sexual harassment claim against Mr Cain, now bidding to be the Republican presidential nominee.
The National Restaurant Association, which Mr Cain headed in the 1990s, confirmed that a claim had been filed.
The association said in a statement that it had agreed to waive the confidentially agreement made as part of the settlement.
The woman filed a formal internal complaint alleging multiple instances of sexual harassment in July 1999.
"As indicated in Mr Bennett's statement, his client prefers not to be further involved with this matter and we will respect her decision," the association said.
The group specified that Mr Cain was not a party to the eventual settlement between the NRA and Mr Bennett's client.
'Smear campaign'
Allegations of misconduct against at least two women first came to light on Sunday.
Politico reported that while Mr Cain was head of the restaurant lobby group at least two women had complained of inappropriate behaviour from him.
The association reached financial agreements with the women, who left their job and were required not to speak publicly about the allegations.
Mr Cain has maintained that the allegations of sexual harassment are "baseless".
However he did concede that, over the course of several media interviews on Monday, "it looked like I changed my story" on the issue of whether a financial agreement had been reached.
Mr Cain said initially that he was "not aware of any settlement" but gradually recalled that there had been an "agreement".
He described an incident as an exchange with an employee in his office, commenting that the woman involved was about the same height as his wife.
On Wednesday a third former employee of the restaurant lobby group claimed she was sexually harassed by Mr Cain around the same time that the original complaint was filed, but she did formally complain.
Mr Cain has called the allegations a "smear campaign" designed to damage his recent successes in opinion polls.