Zanesville police describe charging animals at Ohio zoo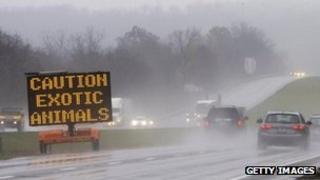 Lions and bears charged at Ohio policemen arriving at a private game park where their owner had set them free, a police report says.
The report reveals just how close some animals came to the policemen and defends their decision to kill them.
Police say they were defending the public from aggressive animals - including tigers, wolves and monkeys.
They killed 48 wild animals after their owner, Terry Thompson, 62, opened their cages before shooting himself dead.
Police say their top priority was to stop the animals getting out of the fenced-off area and threatening neighbouring houses and Interstate highway 70.
But they faced grave personal danger as they attempted to contain the animals.
"As I backed the team up, the tiger came out the door and charged right at us," forcing police to shoot the tiger, Deputy Jay Lawhorne told the Associated Press news agency.
Another officer said he had to shoot a charging black bear 7ft (2.1m) away from him.
'Planning something'
The details contained in the report illustrate the dangers officers faced at the site and the gory reality of having so many animals on the loose.
"One of the African lions that we had shot got up and started running towards us," one policeman said.
"At this point, we opened fire on it again, eventually killing it."
Policemen could see Thompson's body but could not approach because a white tiger "appeared to be eating the body".
According to police, it looked like a big cat had dragged the body and there was a bite mark visible on Thompson's head.
A caretaker at the property told police that Thompson was upset about problems with his marriage and that he was planning something.
It is reported that Thompson told the caretaker: "You will know it when it happens."
Days before the incident, which took place in the afternoon on 18 October 2011, Thompson had told a policeman he was having trouble looking after the animals.
He had been released from federal prison weeks earlier after serving a firearms conviction and owed outstanding debts to the US tax authority, the Internal Revenue Service.