US: Russia and China stealing online from US companies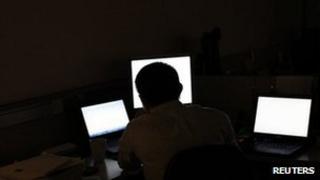 China and Russia are the most active perpetrators of economic cyber-espionage against US companies, a US intelligence report says.
The report specifically cited Chinese "actors" and Russian intelligence as the top culprits.
Robert Bryant, US national counter-intelligence executive, told reporters that online spying was "a quiet menace to our economy".
Both China and Russia's embassies have denied the allegations.
The report, titled Foreign Spies Stealing US Economic Secrets in Cyberspace, says both private firms and cybersecurity experts have reported an "onslaught" of computer network intrusions that they say originated from China.
However, they have not been able to track the ultimate culprit of the intrusions.
Google said in 2010 that it had lost data to Chinese hackers.
'Unwarranted allegations'
According to the report, attacks from Russia are a "distant second" to those from China, but were "extensive" and "sophisticated".
The proliferation of methods used to hack into the computer systems of both research organisations and private companies also means that it is harder to identify and track who is stealing information.
The FBI alerted more than 100 US companies in the past year that their online security had been compromised.
The report is notable for its unusual candour on naming countries suspected of "collecting" material online, including trade secrets, intellectual property and technology.
Officials said while several countries were suspected of cyber-spying, the report singled out Russia and China because of the severity of the threat.
According to the report, US counterintelligence is also worried about "small-scale" actors becoming involved in espionage, effectively providing cover and expertise for foreign intelligence services.
Both Russian and Chinese officials in the US denied the report.
"We are opposed to willfully making unwarranted allegations against China as firmly as our opposition to any forms of unlawful cyberspace activities," embassy spokesman Wang Baodong told the Washington Post.