Elderly men accused of US ricin plot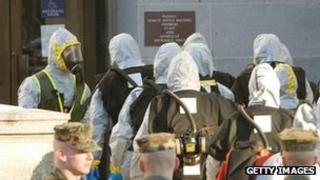 Four elderly men from the US state of Georgia have appeared in court charged with plotting to murder officials using explosives and the lethal toxin ricin.
Court documents say the group scoped out federal buildings and asked a contact to produce ricin.
The FBI used a confidential informant to record the group's meetings.
The men were arrested on Tuesday days after a laboratory test found trace amounts of ricin in their possession, the authorities said.
'Blow the building'
The four were named as Frederick Thomas, Dan Roberts, Ray Adams, and Samuel Crump, all ranging in age from 65 to 73.
The bespectacled accused appeared to have trouble hearing the judge at the federal court in Gainesville, even though she was using a microphone.
A bail hearing is scheduled for next week.
Mr Thomas allegedly wanted to model the group's actions on the online novel Absolved, which involves small groups of citizens attacking US officials.
The novel's author, Mike Vanderboegh, wrote on his blog on Wednesday his book was fiction, and was sceptical the group could have ever carried out the attacks.
Mr Vanderboegh told the Associated Press his novel was intended as a "useful dire warning" about the US government encroaching too far on the rights of armed citizens.
According to court documents, Mr Thomas told the group he had a "bucket list" of politicians, employees and others he felt needed to be "taken out".
He allegedly told an informant: "There's two schools of thought on this: go for the feds or go for the locals. And I'm inclined to consider both.
"We'd have to blow the whole building like Timothy McVeigh."
Mr Crump and Mr Adams were allegedly assigned to try to obtain or make ricin.
Mr Crump was recorded in September saying he would like to make 10lb (4.5kg) of the toxin.
Charlotte Thomas, Mr Thomas's wife, told the AP the charges against her husband were baseless.
"He spent 30 years in the US Navy. He would not do anything against his country," she said. "He loves his country."