Bank of America cancels debit card fee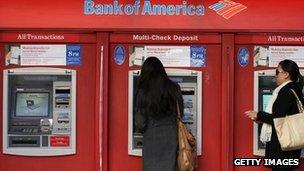 Bank of America has cancelled plans to charge consumers a $5 (£3) monthly fee for making debit card purchases, citing customer feedback.
The bank announced it was abandoning its fee plan amid growing anger around the move and consumer calls to take banking business elsewhere.
A company spokeswoman declined to comment on account closure figures.
JPMorgan Chase and Wells Fargo cancelled tests of similar debit card fees over the past week.
Bank of America originally announced the fee in anticipation of a new rule limiting how much they and other banks can bill retailers for customer debit card transactions.
The amendment to a 2010 financial regulatory reform bill limits the amount banks can charge retailers for each transaction to 21 cents (13p), down from 44 cents.
The rule went into effect 1 October.
Public anger over the Bank of America plans coalesced around an online petition that eventually garnered more than 300,000 signatures.
"When I heard about the fee, it was the last straw for me," Molly Katchpole, a 22-year-old who started the petition, told the Associated Press news agency.
"I'm living paycheck to paycheck and one more fee was just too much."
Ms Katchpole said it was exciting that the bank had rethought its decision, but insisted she would not be returning as a customer. She closed her account weeks ago and says the dropped fee is not enough to bring her back.
Bank of America spokeswoman Anne Pace said the initial roll-out of the fee was based on internal customer surveys, but that "customer sentiment changed" since the announcement.
"Our customers' voices are most important to us. As a result, we are not currently charging the fee and will not be moving forward with any additional plans to do so," Bank of America's executive David Darnell said in a statement.