Conrad Murray decides not to give evidence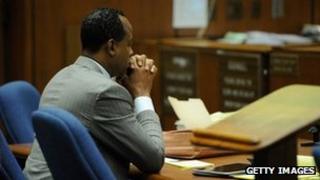 Dr Conrad Murray has told a judge he will not testify in his own defence in the trial over Michael Jackson's death.
He denies involuntary manslaughter but could face a prison term and the loss of his medical licence if convicted.
Dr Murray told trial Judge Michael Pastor he had made his decision "freely and explicitly", reports said.
The decision comes after the defence called its last witness, propofol expert Dr Paul White. Closing statements will begin on Thursday.
"My decision is I will not testify in this matter," Dr Murray said after being asked if he understood the choice to testify or not was his alone.
Throughout the 22-day trial, both the prosecution and defence have called their own medical experts to take the stand.
On Tuesday, the prosecution called their own propofol expert, Dr Steven Shafer, as a rebuttal witness to counter arguments put forth by Dr White.
Duelling experts
During earlier testimony, Dr Shafer said the suggestion that Jackson could have drugged himself was "crazy".
The defence called former patients of Dr Murray as character witnesses, and tried to introduce doubt into the testimony of the prosecution's witnesses.
Defence lawyers have argued that Jackson, dealing with insomnia, drugged himself with an additional dose of propofol after Dr Murray left his bedroom.
They dropped their original contention that Jackson drank the propofol but maintained that he had intravenously administered the fatal dose himself.
Paramedics were called to Jackson's California home on 25 June 2009 after he stopped breathing. He was pronounced dead two hours later at the UCLA medical centre.
The prosecution alleges Jackson died from an overdose of the anaesthetic drug propofol and that Dr Murray was negligent by giving him the drug outside of a hospital setting.