Hillary Clinton's mother Dorothy Rodham dies at 92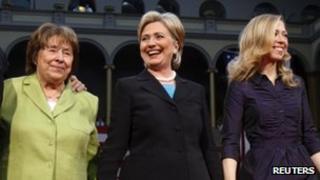 The mother of US Secretary of State Hillary Clinton, Dorothy Rodham, has died at the age of 92.
Born in Chicago in June 1919, Mrs Rodham died shortly after midnight on 1 November in Washington DC, according to a statement by the Clinton Foundation.
The statement described Mrs Rodham, who was abandoned by her parents as a young girl, as "quintessentially American".
Mrs Clinton cancelled a trip to London and Istanbul when informed that her mother had fallen ill.
Mrs Clinton had moved her mother to Washington in 2006, and she spent her final days at the city's George Washington University Hospital.
A private memorial service for Mrs Rodham would be held in the coming weeks, the statement said.
Donations would be accepted for the hospital where she had received care, as well as Heifer International, an "organisation dear to her heart".
Overcoming hardships
Mrs Rodham valued her privacy, never speaking to the press, but appearing at various campaign stops in support of her daughter's 2008 presidential nomination bid.
According to Mrs Clinton's autobiography, Mrs Rodham was eight when her parents divorced in 1927. She was sent to live with her paternal grandparents in California, and was largely ignored.
She left home at 14 to be a mother's helper, Mrs Clinton wrote, and reunited briefly with her mother after she graduated high school.
Mrs Clinton has often said her mother inspired her by overcoming abandonment in her early life and encouraging the future first lady, New York senator and secretary of state to pursue an education and a career.