NBA cancels season until December after talks stall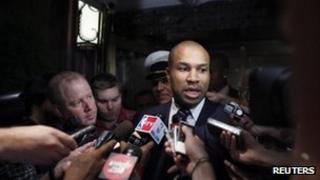 North America's professional basketball league, the NBA, will not start their season until at least December, the league commissioner has announced.
Negotiations between players and team owners had already cancelled the first two weeks of the season.
Commissioner David Stern said the losses from cancelling a month of the season would impact the outcome.
Talks have failed to produce agreement on league revenue-sharing.
Several issues remain unresolved between the two sides, but team owners are insistent on a 50-50 split revenue share, while players have formally proposed they get 52.5%.
In the previous collective bargaining agreement that expired in June, players were guaranteed 57%.
"We made a lot of concessions, but unfortunately at this time it's not enough, and we're not prepared or unable at this time to move any further," Billy Hunter, executive director of the players' association said.
The NBA's commissioner said cancelling at least part of the season was not a retaliatory response to the players.
"It's not practical, possible or prudent to have a full season now," Mr Stern said.
At present, no further talks have been scheduled.