Canadian senator wants polar bear as new emblem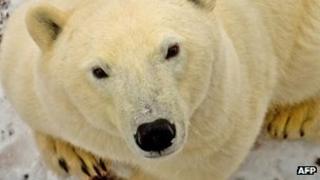 The beaver is no longer fit to be Canada's national emblem, and should be replaced with the polar bear, a Conservative senator says.
In a statement to the Senate, Senator Nicole Eaton said the beaver was an outdated symbol, and a destructive rodent.
The polar bear - with its "strength, courage, resourcefulness and dignity" - would be a better fit, she argued.
The beaver was named an official emblem of the country in 1975.
The senator said it was time for an "emblem makeover".
"Many accuse the dentally defective rat of being a nuisance that wreaks havoc on farmlands, roads, lakes, streams and tree plantations," she said, adding that a country's symbols can "change over time".
"It is high time that the beaver step aside as a Canadian emblem or, at the least, share the honour with the stately polar bear."
Ms Eaton's staff told The Globe and Mail newspaper that the senator was a fan of polar bears - she has several photos of the Arctic beast in her office.
But a member of Parliament who represents Manitoba said removing the beaver would ignore the animal's impact on Canada's history.
"Polar bears are cool but the beaver played a pivotal role in the history of Canada," said New Democratic Party MP Pat Martin. "It was the relentless pursuit of beaver that opened the great Northwest."
Early French and English colonists worked and lived in the country's far reaches to trap beavers for their pelts.
Removing beavers entirely from Canada's national symbols would be labour-intensive: a stone beaver sits on top of the entrance to Parliament and appears on Canadian nickels.
Michael Runtz, a natural history professor at Carleton University told CTV that the national emblem is not just a question of history.
"They are like Canadians. Their demeanour is very pleasant," he added. "Polar bears inspire fear."