'Kill team' leader Calvin Gibbs tried for Afghan deaths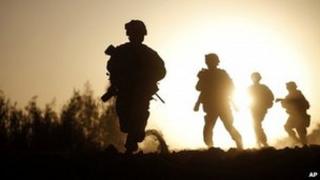 A US soldier accused of killing Afghan civilians and keeping their remains as war trophies is to face military trial.
It is alleged that Staff Sgt Calvin Gibbs, 26, was the ringleader of a "kill team" that included four other soldiers who carried out the killings.
The trial, held in Washington state, involves some of the most serious allegations of atrocities committed by US soldiers in Afghanistan.
If convicted, Sgt Gibbs could face life in prison without parole.
Sgt Gibbs, from Billings, Montana, has been charged with three counts of premeditated murder as well as cutting fingers off dead bodies.
He was found in possession of "finger bones, leg bones and a tooth taken from Afghan corpses," according to the charges.
He is also accused of beating a soldier who alerted army superiors to drug use within the unit.
'Dope-smoking soldiers'
The court martial of Sgt Gibbs is the culmination of an investigation into the use of marijuana in his squad that began 18 months ago.
Judges have already convicted three other members of the rogue platoon who pleaded guilty in exchange for reduced sentences.
Sgt Gibbs' trial is due to last around one week, with approximately 30 witnesses expected to testify.
Proceedings on Friday will include jury selection, as well as other procedural motions.
Jeremy Morlock, 23, who was sentenced to 24 years in jail and dishonourably discharged, is expected to testify against Sgt Gibbs under the terms of his plea deal.
During his hearing, Morlock admitted to involvement in the murders and to using stolen weapons to implicate the victims as enemy fighters.
But in a pre-trial hearing in November 2010, Phillip Stackhouse, who is representing Sgt Gibbs, said his client had not participated in the murders.
He argued against the reliability of evidence from "these dope-smoking soldiers in a combat zone. Who are you going to believe, where does the credibility lay?"
All five soldiers in the "kill team" were members of the 5th Stryker Brigade, based in Fort Lewis, Washington, in the north-western US.
Seven other soldiers were charged with less serious, related offences but most have agreed plea deals.
Several of the men were convicted for offences ranging from shooting at civilians to the use of illegal drugs.
In March 2011, photographs were published showing the soldiers posing with the bloody corpses of Afghan civilians they had just killed.
The images, described by the US Army as "disturbing and in striking contrast to the standards and values of the US Army" prompted the army to apologise for the distress the photos caused.
The killings took place between January and March 2010.