Occupy Wall Street: Arrests in Nashville and San Diego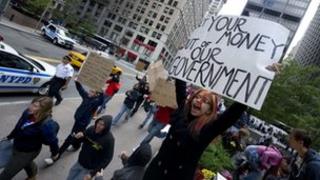 Protesters in two US cities have been detained after police moved into their camps during the night.
In Nashville, a new law was enacted preventing camping overnight near the Tennessee state Capitol.
In San Diego, police arrested 51 people at 02:30 (9:30 GMT), removing tents, canopies, tables and other furniture.
On the US East Coast, many of those taking part in Occupy protests are preparing for an unseasonally cold storm due to hit this weekend.
As much as 10in (25cm) of snow is expected in some areas on Saturday, with between two and four inches forecast for New York City.
Protesters are raising money and floating ideas for how to cope as the temperature drops.
Suggestions reportedly include stockpiling donated coats and blankets, trying to find more secure tents and turning to possible indoor locations.
"Everyone's been calling it our Valley Forge moment," Michael McCarthy, a former Navy medic in Providence, Rhode Island, told the Associated Press news agency, referring to a harsh winter during the American War of Independence.
"Everybody thought that George Washington couldn't possibly survive in the north-east."
Earlier this week, two people from Occupy Denver were admitted to hospital suffering from hypothermia after a storm dumped several inches of snow on the city.
In New York City, the fire department confiscated generators and fuel from protesters because officials said they posed a fire risk.
State troopers
In Nashville, protesters said police surrounded Legislative Plaza and made the arrests in the early hours of Friday morning.
One of the protesters, Katy Savage, told the Associated Press that police took - and in some cases dragged - protesters to waiting buses as the group sat and sang "We Shall Overcome".
A police statement said around two dozen protesters left the area without incident, but those who refused to leave were detained.
Around 75 state troopers were used for the operation.
The arrested protesters were released with citations for criminal trespassing.
The San Diego arrests early on Friday came after police negotiations with demonstrators broke down, Chief William Lansdowne told AP.
Encampments had formed on the city's Civic Center Plaza and Children's Park for three weeks.
Police said there had been complaints of unsanitary conditions, including littering, urination and drug use.
Demonstrators in San Diego may return after the cleanup, officials said, but without without tents.
'We are all Scott Olson'
The arrests follow 50 in Atlanta on Tuesday. Oakland's police department confirmed there were 102 arrests in that city on Tuesday, amid clashes between police and protesters.
One man was seriously injured in Oakland during the clashes.
On Thursday evening a crowd of around 1,000 people held a vigil in the Californian city for the injured man, Scott Olsen, who is still in hospital with a fractured skull.
The former marine has become a touchstone for Occupy Wall Street demonstrators across the US.
Twitter users and protest websites have come out in solidarity, insisting: "We are all Scott Olsen".
Occupy protests have spread to cities across the US, on the East Coast where the movement began, and at many points further west.
The message has also caught the imagination of people in Europe, with similar protests in cities overseas including London, Rome and Berlin.
US
The most high profile protest has been Occupy Wall Street in New York, which began on 17 September. The protesters call themselves "the 99%" and are demanding major reforms of the global financial system by curbing the power of banks and corporations. Protests have also taken place in cities across the US, including Washington DC, Chicago, Los Angeles, San Francisco, Denver, Pittsburgh, Detroit, Houston and Boston. On 15 November, police moved in to clear the Occupy Wall Street protest, earlier they had cleared camps in Portland, Oregon and Oakland, California.
Europe
A protest in Madrid's Sol Square began in May and turned into a week-long sit in. Renewed protests in Europe started on 15 October with demonstrations in Rome, Berlin, Frankfurt, Leipzig, Hamburg, Dublin, Bucharest, Zurich and other cities. Demonstrations were largely peaceful, but around 70 people were injured when violence broke out in Rome.
UK
Protests at the London Stock Exchange in solidarity with Occupy Wall Street began on 15 October. After being denied access to Paternoster Square in front of the stock exchange, demonstrators organised a camp of around 150 tents outside St Paul's Cathedral. Protesters were told their camp could remain until the new year, on condition some tents blocking the "public highway" were removed. But the City of London Corporation said it was proceeding with legal action on 16 November, after talks with the protesters broke down.
Canada
Demonstrations and protest camps began on 15 October in major cities, including Calgary, Halifax, Quebec, Toronto, Vancouver and Victoria. Police have cleared protesters from sites in Halifax and Ontario but campaigners at the biggest camp, in Toronto, have been allowed to remain.
Australia
Protests began in Sydney and Melbourne on 15 October. Police forcibly removed around 100 demonstrators from the Melbourne camp on 21 October.