Ohio orders Zanesville animals to stay at Columbus Zoo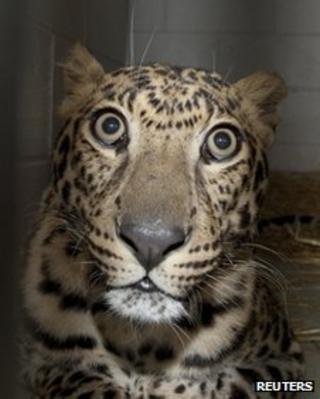 The six surviving wild animals from an Ohio farm where the owner opened the cages and killed himself will not be returning to live with his widow.
Ohio's agricultural department ordered that the three leopards, two primates and a young grizzly bear must be quarantined at the Columbus Zoo.
Marian Thompson had told zoo officials earlier she would be reclaiming them.
More than 50 animals - including lions, bears and wolves - were shot after being freed from cages on 18 October.
Officials said the "volatile situation" of animals escaping from Terry Thompson's farm as night fell prompted the shoot-to-kill order.
'Shoot-to-kill'
Columbus Zoo had no legal rights to the animals, and asked state and federal officials to intervene when Mrs Thompson requested that the animals be returned to her custody.
Ordering a quarantine allows the state's agricultural department to keep the animals at the zoo while their health is investigated.
The order is indefinite, but Mrs Thompson is entitled to a appeal hearing within 30 days.
Dale Schmidt, president of the zoo, said officials had not conducted standard medical tests because they did not own the animals.
Marian Thompson had given her permission for the animals to be cared for at the zoo in the immediate aftermath of the incident.
Officials said were not sure if she planned to take the surviving animals back to the farm in Zanesville, Ohio, from where the others were freed.