Ex-Goldman Sachs director Rajat Gupta on fraud charges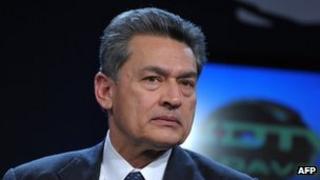 A former director at investment bank Goldman Sachs has pleaded not guilty to charges of securities fraud relating to a hedge fund insider trading case.
Charged with five counts of fraud and one count of conspiracy, Rajat Gupta, 62, has been released on $10m (£6.3m) bail and had his passport seized.
The prosecution said the corporate veteran was the "illegal eyes and ears" of hedge fund trader Raj Rajaratnam.
Rajaratnam was sentenced to 11 years in jail for insider trading in October.
Rajaratnam, described as Mr Gupta's friend, "reaped enormous profits from Mr Gupta's breach of duty," prosecuting lawyer Preet Bharara said.
Mr Gupta's trail date has been set for 9 April 2012.
Trial evidence
Civil fraud charges were brought against Mr Gupta by the US Securities and Exchange Commissioner in March.
Those charges allege that Mr Gupta divulged secret information about Goldman Sachs, which Rajaratnam traded on.
His lawyer Gary Naftalis told Reuters news agency: "Any allegation that Rajat Gupta engaged in any unlawful conduct is totally baseless. The facts demonstrate that Mr Gupta is an innocent man and that he has always acted with honesty and integrity.
"He did not trade in any securities, did not tip Mr Rajaratnam so he could trade, and did not share in any profits as part of any quid pro quo."
Recorded phone calls between the two men were played to the jury during Rajaratnam's insider trading trial.
The jury heard that on 23 October 2008, at a private meeting of Goldman Sachs board members, the board was told the firm had incurred a quarterly loss for the first time in the bank's history.
Phone records showed that Mr Gupta called Rajaratnam 23 seconds after the meeting ended and Rajaratnam sold his entire holding of Goldman Sachs stock, saving millions of dollars.
But correspondents say that some of the most compelling evidence against Mr Gupta - recorded phone calls between Rajaratnam and his associates - may not be admissible in a trial.
Mr Gupta also gave Rajaratnam advance notice that Warren Buffett's company Berkshire Hathaway was considering a $5bn (£3.1bn) investment in Goldman Sachs, a tip that earned him $1m.
During the trial of Rajaratnam, the Goldman Sachs chief executive Lloyd Blankfein testified that Mr Gupta leaked boardroom secrets.
Corporate veteran
Several other convictions have been made in connection with Rajaratnam's insider trading case but the arrest of Mr Gupta brings allegations of misconduct into the highest echelons of corporate America.
Mr Gupta headed McKinsey, a consulting firm that advises global blue chip companies on corporate strategy and business management, before joining the board of Goldman Sachs in 2006.
He was a member of the audit, corporate governance and compensation committees for the financial institution worth more than $50bn.
Mr Gupta also served on the boards of Procter & Gamble, the consumer good giant, as well as the parent company for American Airlines.
He was active in philanthropic circles and was closely involved with the Bill and Melinda Gates Foundation.