Obama's election hopes rest on wooing back supporters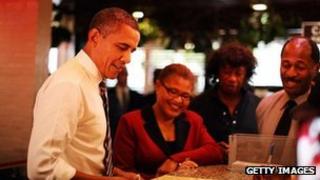 Obama supporters have long known that the wooing was over.
The hard reality and awkward compromise of living together has been the way of the last few years.
The President admits it, saying this election will not be as sexy as the first one.
"Back then, I was... it was still fresh and new, and I didn't have any grey hair and everybody loved the 'Hope' posters and all that, " Mr Obama joked with supporters at a campaign event in California.
"But this time it's... we've got to grind it out a little bit. We've got to grind it out."
He is doing his best to romance his would-be supporters, to remind them of some of the old magic. This is the second stage of his American Jobs Act strategy.
He is saying that if congress will not act, he will, by actively looking at ways he can get around the opposition to his plans, using executive orders.
New fire
I am out in Ohio at the moment and have been in North Carolina, and in both places I am struck by how geed up disillusioned Democrats are by this sort of fighting talk.
The unequivocal announcement about all troops leaving Iraq is particularly welcomed as a welcome burst of clarity from a president who has looked too hard for the middle ground.
He is acting as if he has been reading some advice column about "how to rekindle your marriage".
The election may not be as sexy as 2008 was, but Obama needs to stop his once faithful partners pleading a headache and simply turning over and going to sleep.