Murray defence begins arguments in Jackson death trial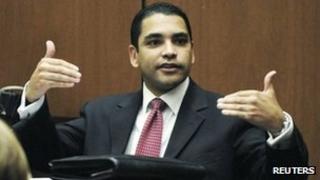 Lawyers defending Conrad Murray, Michael Jackson's doctor, have called their first witnesses.
They will have to counter four weeks of testimony from prosecution witnesses, who alleged that Dr Murray acted unethically and with gross negligence
Dr Murray is charged with involuntary manslaughter in a Los Angeles court.
Among the first witnesses were a doctor and a nurse practitioner, who had both previously treated or counselled Jackson.
Dr Allan Metzger, a friend of Jackson's for over two decades, testified that Jackson had requested anaesthetics from him as a sleep aid.
During their cross-examination, prosecutors used the same testimony to show that other medical professionals rejected using intravenous or oral anaesthetics to help Jackson sleep.
Cherilyn Lee, a holistic nurse practitioner who treated Jackson with vitamin infusions, testified that she urged Jackson to undergo a sleep study for his insomnia, but he refused, saying he didn't have enough time.
Ms Lee, who has spoken publicly about Jackson requesting propofol from her, is expected to tell jurors about further exchanges with the late singer when she continues testifying on Tuesday.
The defence also questioned Detectives Dan Myers and Orlando Martinez about testimony from bodyguard Alberto Alvarez.
Mr Alvarez said that after Jackson's breathing stopped, Dr Murray told him to place equipment and vials into a bag before calling the 911 emergency service.
The defence has contended that Mr Alvarez may have changed his story after a coroner's official report was released.
Propofol experts
Dr Murray is not expected to testify, but the defence has said they will call their own propofol expert to counter testimony of anaesthesiologist Steven Shafer, the prosecution witness who testified for five days.
Defence lawyers argued in opening statements that Jackson could have drunk an extra dose of propofol, but later told the court they would drop the argument based on their own studies.
Prosecutors have portrayed Dr Murray as grossly negligent for administering the drug outside of a hospital setting.
The defence has argued that he was trying to wean a troubled Jackson off the drug, and that the pop superstar, desperate for sleep during rehearsals for a planned comeback concert, administered the fatal dose himself.
Correspondents say that with multiple witnesses already called on Monday, the case could go to the jury as early as the end of this week.