Pennsylvania declares Harrisburg in fiscal emergency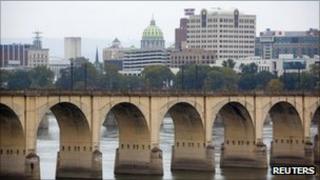 The governor of the US state of Pennsylvania has declared a fiscal emergency in the capital, Harrisburg, beginning a state takeover of the city's finances.
The takeover comes after Harrisburg's city council rejected calls to implement a financial recovery plan and declared bankruptcy.
The city faces debts of $458m (£291m) and has struggled to pay for services.
Critics of the takeover law say it is unconstitutional.
Mr Corbett signed the takeover law last week, after it was passed by the Pennsylvania legislature.
'Destitute for decades'
Debt woes have plagued the city of 50,000 since 2010, when an incinerator project funded by municipal bonds failed to raise expected cash.
A takeover plan is likely to include renegotiating labour deals, cutting jobs and putting most of the city's valuable assets up for sale or lease, correspondents say.
That would include the incinerator, as well as parking garages.
The city council has said it chose bankruptcy over a rescue plan which would benefit creditors at the expense of the city.
"I think [bankruptcy] is the only real option that we had," said City Controller Dan Miller. "They wanted to sell all of our assets and make Harrisburg destitute for decades to come."
Harrisburg's bankruptcy declaration is opposed by the city's mayor, Linda Thompson, who challenged the legality of the vote.
According to Ms Thompson, city law requires the mayor and the city solicitor to sign off all hiring of outside lawyers, as well as having city solicitors approve all ordinances and resolutions considered by the council.
"They have been dishonest with the entire community for months," the mayor said about the council. "I am ashamed of the behaviour."
Harrisburg's federal petition for Chapter 9 bankruptcy lists six pending legal actions by creditors.