US economy: Foreign home-buyers sought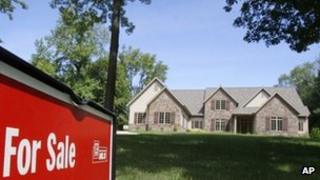 Two US senators have proposed a plan to offer visas for foreigners buying homes worth $500,000 (£314,000) or more.
Democrat Chuck Schumer and Republican Mike Lee, sponsoring a bill, say it is a move to increase housing demand.
The proposal is similar to an existing Green Card program for foreigners who invest at least $500,000 in an American business that creates at least 10 jobs.
The US Chamber of Commerce has announced its support for the new legislation proposal.
"Our housing market will never begin a true recovery as long as our housing stock so greatly exceeds demand. This is not a cure-all, but it could be part of the solution," said Mr Schumer, a Democrat from New York.
Mr Lee, a Republican from Utah, described the bill as a "free market method for increasing demand for housing".
Residential restrictions
Sales of previously owned homes in the United States dropped to 3% in September following a jump in August, according to the National Association of Realtors.
The same group said residential sales to foreigners and recent immigrants totalled $82bn between April 2010 and March 2011, up from $66bn.
Some 31% of all international housing buyers choose Florida.
The proposal would provide a three-year residential visa for foreign owners.
Prospective buyers would need to spend at least $250,000 on one property that would serve as their primary residence, and could make up the $500,000 requirement with additional rental properties.
To qualify for the visa, however, the purchases must be in cash, and the owners would have to reside at the primary residences for 180 days out of the year.
They would also have to apply for a separate work visa in order to be employed in the US, and would not be eligible for government aid programs.
"The bill does not limit people from being productive," Mr Schumer said. "It simply prevents them from coming here and taking jobs that otherwise would go to Americans."
The idea has also been supported by billionaire investor Warren Buffett.
"If you wanted to change your immigration policy so that you let 500,000 families in but they have to have a significant net worth and everything, you'd solve things very quickly," Mr Buffett told PBS's Charlie Rose in August.
Mr Schumer said he was working to get the backing of the Obama administration on Thursday.