Will Hispanic Mormons support Romney in 2012?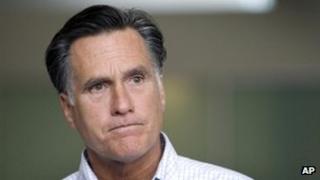 Will the growth in Hispanic Mormons help Mitt Romney attract voters?
As Mitt Romney remains a front-runner for the 2012 Republican presidential nomination, his Mormon faith has come under increased scrutiny.
But one aspect of the Mormon community's changing face has passed mostly unnoticed: a rapid growth of conversions by Hispanic immigrants.
According to some estimates, by 2025 Hispanics will be the majority within the Mormon faith, which has expanded from its original core of largely white members located mostly in Utah.
The number of Spanish-speaking Mormon congregations in the US almost doubled between 2001 and 2011, according to the Church of Jesus Christ of Latter-days Saints, the official name of a religion with 5.5 million members in the US.
Faith is still an element that voters consider, and the other Republican candidates have made an issue of Mr Romney's Mormonism. At a recent event, the pastor introducing Texas governor Rick Perry called the faith "a cult." During the last Republican presidential debate candidates discussed the value of a candidate's religious preference.
While Mormons make up only 2% of the US population, the question remains whether the Mormon community would vote en masse for Mr Romney.
Representatives of the Mormon church say that they have never asked their members to vote for a candidate based on religion. However, in Utah, where Mormons are a majority of the population - and primarily Republican - 71% prefer Romney to the competition, according to a poll by the Salt Lake City Tribune. A national poll of Republicans taken around the same time found only 17% support for Romney.
Immigration issues
But Mr Romney should not take the support of Hispanic Mormons for granted, according to some analysts. Hispanic voters have traditionally gone for Democratic candidates, and supported Barack Obama by a more than 2-to-1 margin in 2008.
"Romney is not very popular within the Hispanic Mormon community due to his position on immigration," says Ignacio Garcia, professor of Latino History at Brigham Young University, the most prominent Mormon university, located in the city of Provo.
In Mr Garcia's opinion, Hispanic Mormons would clearly vote in favour of the Democratic Party, as would the majority of Hispanics in the US.
During the campaign, Mr Romney has vied with the rest of the Republican contenders over who has taken a tougher stance on illegal immigrants. He has also supported a border fence between the United States and Mexico.
His position contrasts with that of the other Mormon republican candidate, Jon Huntsman, who has supported proposed legislation that would benefit undocumented immigrants who go to university or serve in the military.
Richard Bushman, a Mormon and emeritus professor of history at Columbia University, also believes that Romney's position on immigration has damaged his support among Hispanic Mormons.
"However, we should consider that many Hispanics, Mormons or not, appreciate his conservative values," he says.
Aiding success
Mormon expansion among American Hispanics has been accompanied by a growth in the number of believers in Latin America, in particular in Mexico and Brazil.
According to some estimates, Hispanics are now more that half of the 14 million Mormons claimed by the church worldwide.
But why is this faith finding so much success with Latinos in the US?
Jorge Iber, author of Hispanics in the Mormon Zion, explains that newly arrived Hispanics find in Mormonism a great opportunity to rapidly integrate into the community.
"To someone who has a manual job and scarce economic resources, this church is appealing because it provides them with the opportunity to participate in church decisions and to aspire to positions of leadership," says Mr Iber.
Shortly after conversion, many Mormons find themselves leading activities such as religion classes or boy scout groups
Carlos Hernandez, 44, a convert of Salvadoran origin who lives near Washington DC, credits the church with helping him succeed in America.
Mr Hernandez converted from Catholicism when he was 18 years old, shortly after he arrived in the US. He works as an insurance agent and is first counsellor of the bishop, the second-highest rank within a Mormon congregation.
"The church helps us progress," says Mr Hernandez. "We learn to be leaders in the church and in our community."
When asked who he supports in the upcoming election, he says that he does not like politics.
But then he adds: "I am going to vote for the candidate who looks better prepared to push this country out of this bad situation."
When it comes to voting for president, Mr Hernandez has a view similar to other Hispanic Mormons, which is the same thing American across the country are saying: in 2012, faith will take a back seat to fixing the economy.