Why wild animals do not make good pets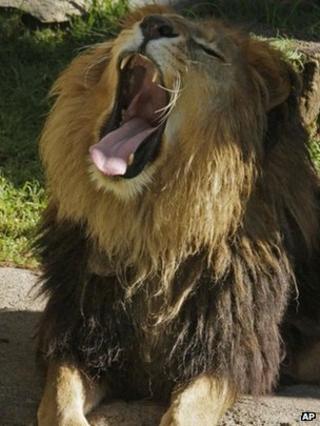 By all accounts, Terry Thompson kept the tigers, bears, monkeys and other exotic and dangerous wild animals as pets, and he insisted they were happier on his 73-acre (29-hectare) patch of land in rural Ohio than in zoos.
And as recently as 2008, Thompson said publicly he would never endanger his own animals or his human neighbours by failing to secure them and care for them.
"I don't let my animals run loose," he told the Zanesville Times-Recorder newspaper.
"I'm not going to put anyone else, including myself and my wife, in danger or put my animals at risk. I take extreme precautions with them and with people who come here."
That sentiment apparently went by the wayside on Tuesday, when the eccentric Vietnam veteran, gun enthusiast and pilot cut the fences and opened the gates of the cages at his private menagerie, then shot himself to death as the animals fled.
'Inhumane'
As night fell on Tuesday, panicked police shot at least four dozen animals dead, including endangered Bengal tigers, lest the animals attack citizens.
The ghastly tally and the mortal risk to the humans in the area shows private citizens have no business keeping wild animals as pets, animal welfare advocates and rescuers say.
"They're not pets," said Tim Harrison, of Ohio rescue group Outreach for Animals. "That's the sad part. People get the wrong idea watching television shows.
"They teach people the exact wrong thing. It's just not right. It's not right for the animals; it's just not right for the people. You can buy a cobra but you can't buy common sense."
At least 75 people have been killed and more than 500 injured by exotic animals kept in zoos or privately since 1990, according to Born Free USA, which tracks reports.
"There's a clear danger to the animals themselves," said Adam Roberts, executive vice-president of Born Free USA, a group working to ban private ownership of wild animals.
"Often animals kept in private hands are treated inhumanely. They're chained, defanged or declawed. Then there's always the risk of escape and in fact of human injury."
Thompson's menagerie was not accredited by the Association of Zoos and Aquariums and he was not permitted as an animal exhibitor by the US Department of Agriculture (USDA).
The facility fell short of the requirements for receiving a permit because Thompson reported that he did not receive compensation for showing the animals, said USDA spokesman Dave Sacks.
Starved animals
"This facility was strictly privately held and privately run and funded," Mr Sacks told the BBC.
"Just to have them on his property, as he did in his privately funded sanctuary, that's not a USDA situation."
In addition to pleading guilty last year on two counts of possessing illegal firearms - offences for which he served nearly a year in federal prison - Thompson had had at least two run-ins with authorities over animals he kept.
In 2008, local prosecutors declined to charge Thompson for animal cruelty after inspectors from the Columbus Zoo and the Muskingum County Humane Society visited his property.
"We had several experts out at the Thompson place including a number of veterinarians and even experts from the Columbus Zoo and they found nothing wrong," Muskingum County Prosecutor Michael Haddox told the Zanesville Times-Recorder.
"I'm not going to tell you that the animals out there are taken care of like you or I might take care of one of our pets, but there is no-one that can say their conditions are violating any statutes of law."
In late 2005, Thompson was sentenced to six months' house arrest following his conviction for cruelty to animals, having an animal at large, and other charges.
Police found three cows and a buffalo had died from starvation on farmland he owned, according to a Zanesville Times-Recorder at the time.
Thompson had argued in the case that the animals may have already had disease which contributed to their deaths, and that they had consumed contaminated water and feed.
Thompson began keeping exotic animals in 1977, when he purchased a lion cub for his wife, Marian, he told the Zanesville newspaper in 2008.
He said he had seven veterinarians on call to care for the animals, which he said were more "relaxed without conflict" than animals in zoos.
Bear attack
"They know they're loved and cared for," he said.
"If one of my bears gets a hangnail, I call a certain vet. If a cat sneezes, I call another vet.
"I don't use the animals for commerce, so I'm under no regulations like a zoo. But I make sure my animals aren't a threat to the community, either."
Following the 2008 inspections, however, local authorities said they were concerned some of the cages were insufficiently secure, and Mr Thompson appeared to have addressed those fears.
He always insisted he did not keep the animals for the money, and sometimes obtained them in exchange for firearms.
In March, while imprisoned on federal firearms charges, he said in a sworn deposition that had traded guns for a monkey, a leopard and a baby tiger.
"I've never sold an exotic animal," he said. "I don't do that for money."
Mr Harrison said he once rescued a bear from a man who had obtained it at a young age from Mr Thompson.
The bear grew up, became sexually mature and aggressive, and attacked the man. Later, the owner grew ill from cancer and could no longer care for it.
"He was actually kind of scared of it," said Mr Harrison, who took the bear to a sanctuary in Colorado.
Mr Harrison, who was at the scene in Zanesville, Ohio, observing the rescue efforts on Wednesday, said the escaped animals appeared to be in fairly good condition.
But in July, a federal agent who was involved in the firearms case against Thompson said the interior of his house was so cluttered and foul that officials had a hard time searching it for weapons.
"The residence was of such a poor environmental condition that it was unsafe for us to breathe the air," said Special Agent James Ash of the Bureau of Alcohol, Tobacco and Firearms, according to a sworn deposition obtained by the BBC.
"The location that we would have used to process the evidence was within six feet of the caged monkeys, and we believe that the monkeys contributed to the degradation of the environment of the house."