Richard Branson dedicates Virgin Galactic spaceport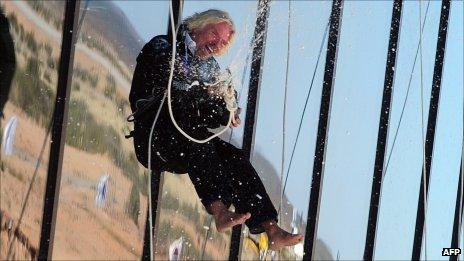 Sir Richard Branson has dedicated the launchpad for his space tourism venture in the New Mexico desert - with his usual eye for a photo opportunity.
The British billionaire abseiled down the side of the world's first built-from-scratch commercial spaceport, swigging from a bottle of champagne.
New Mexico Governor Susana Martinez and astronaut Buzz Aldrin also attended.
The 2.5-hour flights will offer five minutes of weightlessness and cost $200,000 (£127,000).
Powered test flights are scheduled to take place next year and Sir Richard expressed hopes that Virgin Galactic's commercial flights could begin soon after.
'Literally out of this world'
He had hoped the maiden flight would take place in 2007, but the project has been hit by delays.
Sir Richard last visited the $209m Spaceport America - which was partly financed by taxpayers - nearly a year ago to celebrate the completion of the runway.
"The building is absolutely magnificent," Sir Richard said on Monday. "It is literally out of this world, and that's what we were aiming at creating."
The crowd included about 150 people who have already bought tickets for the flights, which promise views of the Earth seen only by astronauts.
Before entering the hangar, onlookers were treated to a flyover from Virgin Galactic's WhiteKnightTwo, the "mothership" which will launch a suborbital spacecraft.
Sir Richard said he and his children would be some of the first passengers, but that he needed to be certain he could bring them home safely.
"We want to be sure we've really tested the craft through and through before turning it over to the astronauts who bought tickets to go up," he said.
"If it takes a bit longer, we'll take a little bit longer."
The building of the spaceport terminal has been held back because of contractor disputes and problems with building codes.
Virgin Galactic reached an agreement six years ago with New Mexico officials to build the spaceport.
The company will need a licence from the Federal Aviation Administration before commercial services can begin.