New York helicopter crash victim Helen Tamaki dies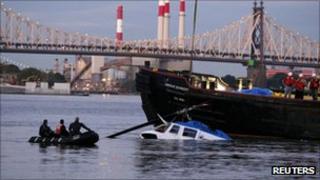 A New Zealand woman who was on board a helicopter that crashed into a river in New York last week has died in hospital from her injuries.
Helen Tamaki had been on the private flight on 4 October to celebrate the 40th birthday of her British partner, Sonia Marra, who died at the scene.
Ms Marra's mother was also seriously injured while her stepfather and the pilot received hospital treatment.
The cause of the crash is being investigated.
The Bell 206 plunged into the river shortly after taking off from New York's East 34th Street Heliport.
In a report released on Wednesday, the US National Transportation Safety Board said the helicopter had been undergoing its annual routine inspection two days before the crash.
A spokeswoman for New York's medical examiner's officer said Ms Tamaki had died from complications after "near drowning" starved her brain of oxygen.
Ms Marra's family have described the pilot, Paul Dudley, as "a family friend, who acted with great bravery in the rescue".
New York Mayor Michael Bloomberg described the crash as "a terrible accident".