Raj Rajaratnam jailed for 11 years for insider trading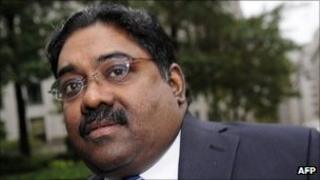 A former hedge-fund manager has been sentenced to 11 years in jail in New York for one of the biggest insider trading cases in American history.
Raj Rajaratnam, 54, was also fined $10m (£6.4m).
The Galleon Group founder made well over $50m from illegal trades, said the judge at the Manhattan federal court.
Sri Lankan-born Rajaratnam was convicted of 14 counts of securities fraud and conspiracy charges in May after a two-month trial.
The judge denied Rajaratnam bail and he must report to prison on 28 November.
Business culture 'virus'
The prosecution had requested he be handed nearly 20 years in prison, but the defence asked for nine years at most.
District Judge Richard Holwell disclosed that Rajaratnam has advanced diabetes and needs a kidney transplant, and that this had been taken into consideration in the sentencing.
He said Rajaratnam's "crimes and the scope of his crimes reflect a virus in our business culture that needs to be eradicated".
But the judge also praised Rajaratnam's philanthropy for victims of the earthquake in Pakistan and the 9/11 attacks.
The BBC's Michelle Fleury, who was in court, says Rajaratnam was expressionless as he learned his fate.
He stood still and said little during the hearing, for which extra chairs had to be provided to seat all the spectators.
Rajaratnam's family did not attend the sentencing. His lawyers say the defendant has tried to protect his loved ones from the intense media scrutiny the trial has generated.
More than two dozen people have been jailed in the case, with sentences ranging from a few months to 10 years.
In their pre-sentencing arguments, prosecutors said Rajaratnam "remains defiant that he never committed insider trading and, incredibly, he maintains that the line between legal and illegal conduct was not always clear to him".
The prosecution said Rajaratnam made up to $75m in profits from illegal trades.
But the defence said he made a much lower sum - about $7m - when trades by his Galleon Group of hedge funds were discounted.
Before the sentencing, the prosecution urged the judge to revoke Rajaratnam's $100m bail.
He has been under house arrest, wearing an electronic tag in his Manhattan residence.
Among those also convicted in the Galleon case was Bear Stearns hedge-fund trader Danielle Chiesi, a former beauty queen.
Prosecutors said the 45-year-old, sentenced to two-and-a-half years in jail in July, used her feminine charms to elicit illegal information from male executives.