Denver man 'thought dead friend was drunk'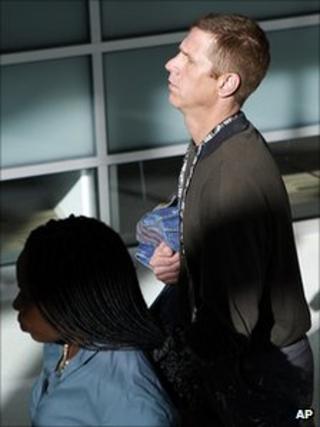 One of two men accused of driving around a US city with their friend's corpse in the back seat thought the dead man was just drunk, a court heard.
Robert Young said he "wanted to believe" that Jeffrey Jarrett had simply passed out.
Mr Young and Mark Rubinson visited bars and a strip club and withdrew cash using Mr Jarrett's card before reporting his death, Denver police say.
They face charges including identity theft and abuse of a corpse.
Authorities are awaiting autopsy results to determine how and when 43-year-old Mr Jarrett died.
"In my mind, I wanted to believe he was passed out," Mr Young, 43, told the court hearing.
"I didn't want to call 911 (emergency number). I didn't want to believe he was dead."
Police say the night on the town started when Mr Young went to Mr Jarrett's home on 27 August and found him unresponsive.
Instead of calling for help, Mr Young went to find Mr Rubinson, 25, it is alleged.
The pair then put the body in Mr Rubinson's car and went to two bars in Denver where they spent some time drinking while the corpse was left in the car, police records say.
Police say the men used Mr Jarrett's bank card to pay for the drinks.
Mr Young said he then realised Mr Jarrett was dead and the two men took his body back to his home and left it on a bed.
They then went to Shotgun Willie's, a strip club in nearby Glendale, where they withdrew $400 (£253) from Jarrett's account from a cash machine, police said.
Later the men later flagged down a police car and told officers they thought their friend was dead and where his body was, according to the police statement.
Mr Jarrett was pronounced dead at his home in Denver on 28 August.
Neither of the men faces charges in connection with Mr Jarrett's death.
Mr Young was due to enter a plea on Thursday but his lawyer was granted an extension until 3 November.