US capital hosts two anti-corporate demonstrations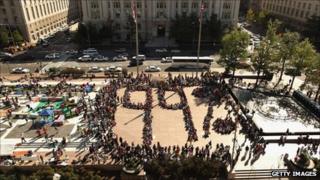 Two groups are holding a protests against corporate power in the heart of the US capital, Washington, DC.
The Stop the Machine rally joined a like-minded protest, Occupy DC, whose members have been camping since 1 October in a square nearby the White House and lobbying firms.
Several dozen people brought camping gear to Freedom Plaza, between the White House and the US Capitol.
The protest has a four-day permit on a plaza popular with protesters.
While Stop the Machine organized in 2001 in opposition to the Afghanistan war, its sentiments echoed the ongoing Occupy Wall Street protests in New York and a related protest in DC.
Numbers of demonstrators in New York have swelled since mid-September, and the ongoing protest there has attracted major union support.
Sympathetic demonstrations have popped up across the United States. On Thursday, about 500 union members, students, activists and others marched through Los Angeles.
In Washington, the Stop the Machine rally and subsequent march towards the White House grew towards 1,000 people.
The AFP news agency reported no uniformed police officers were seen in Freedom Plaza.
"The poor are no longer patient," Ben Manski, one of the rally's speakers, said.
The crowd was a mix of young people and veterans of protest movements of past decades.
President Obama told reporters on Thursday the Occupy Wall Street protests expressed Americans' frustrations with the aftermath of the financial crisis.
"And yet you're still seeing some of the same folks who acted irresponsibly trying to fight efforts to crack down on abusive practices that got us into this problem in the first place," Mr Obama said.
Several Republican presidential candidates have rebuked the protestors, including potential frontrunner Mitt Romney and businessman Herman Cain, who has seen his rating increase in opinion polls.