Profile: Governor Chris Christie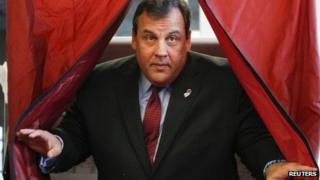 Chris Christie is the rotund, tough-talking Republican governor of New Jersey known for his combative style and budget-cutting record.
Mr Christie burst onto the national scene in 2009, when he unseated a Democrat and kicked off the reversal of Republican fortunes after the party's routing in the previous year's elections.
Since then, his popularity has soared among national Republicans who applaud him as a fiscally conservative Republican who has made a mark in a strongly Democratic state.
Amid lingering dissatisfaction with the Republican presidential field ahead of the 2012 election, party fundraisers and national conservative figures urged him to enter the race.
Mr Christie turned them down, but some analysts say he could be biding his time for a run in 2016.
Since then, his response to a devastating storm in October 2012 and his easy path to second gubernatorial term in November 2014 has only further burnished his national profile.
However, claims that his staff pursued a petty political vendetta threatened to tarnish his reputation in.
Aggressive
A native of New Jersey, Mr Christie, 49, graduated from the University of Delaware then attended law school at Seton Hall University in New Jersey.
He held elected office in Morris County in northern New Jersey, and in 2002, President George W Bush appointed him US attorney, the state's highest federal law enforcement officer.
He left that post in 2008 after Mr Obama was elected president, and soon embarked on a campaign for governor.
In November 2009, he defeated the unpopular incumbent Jon Corzine, a Democrat and former Wall Street executive.
New Jersey is a deeply Democratic state - Mr Obama won it with 57% of the vote in 2008.
Republicans hailed Mr Christie's victory as a sign voters had begun to turn against Mr Obama and the Democrats.
His victory with 52% of the vote also presaged the party's historic wave victory in the 2010 midterms.
Since then, Mr Christie has embarked in spirited battles with public employees' unions and with Democrats in the state legislature.
Supporters, including national Republicans, applaud his willingness aggressively to confront his political adversaries, though critics have said it has poisoned the atmosphere in Trenton, the state capital.
In a move that won him plaudits from fiscal conservatives across the country, Mr Christie unilaterally scrapped what would have been the largest public works project in the nation, a commuter rail tunnel under the Hudson River between New York City and New Jersey.
Mr Christie said New Jersey could not bear its share of the $8.7bn (£5.7bn) project.
But the tunnel's supporters had noted it would reduce congestion and delays for commuters and sustain thousands of construction jobs during a time of stubbornly high unemployment.
The move further soured Mr Christie's relations with New Jersey's Democratic Senators, the late Frank Lautenberg and Robert Menendez.
Mr Lautenberg was one of the tunnel's strongest proponents, and he told the New York Times the governor had not warned him in advance of his plans.
Mr Christie also angered Democrats after vetoing a bill passed by state lawmakers to make gay marriage legal in the state. He later dropped an appeal against a court challenge, effectively allowing the state to legalise same-sex unions.
Sandy's impact
In 2011, Mr Christie repeatedly publicly rebuffed efforts to get him to run for president.
He said he was unprepared on the national issues - and even joked that only his suicide would convince people he was not interested in standing for the White House.
Mr Christie said he would not relish the demands of the campaign trail, in particular finding himself "in a hotel room in Des Moines [Iowa] and its 5:30 in the morning, and it's 15 below, and it's time for me to get up and go shake hands at the meatpacking plant".
But he was selected to deliver the keynote address at the 2012 Republican national convention, the highest profile spot for a politician not accepting the presidential or vice-presidential nominations.
If he had run, Mr Christie would undoubtedly have faced questions about his health and size. He is overweight and once spent time in hospital after a brief asthma attack.
In February 2013, the New Jersey governor underwent lap-band stomach surgery, furthering suggestions he was planning a 2016 presidential run.
Mr Christie told reporters he had done so for his family.
"I've struggled with this issue for 20 years," Mr Christie told the New York Post, "For me, this is about turning 50 and looking at my children and wanting to be there for them."
Mr Christie's response to a devastating storm that hit the US eastern seaboard won him cross-party praise. The storm, known as Sandy, ruined miles of New Jersey coastal towns, killing 71, displacing residents and putting the state's annual tourism season in doubt.
The New Jersey governor spend the days after visiting hard-hit areas of the state, memorably walking beside President Obama and praising him for his "outstanding" response to the state's needs after Sandy.
He also attacked congressional leaders, including Republicans, a few months later for allowing a vote on relief aid related to the storm to be delayed by a year-end budget showdown.
In November 2013, Mr Christie sailed to a second term as New Jersey governor, winning 60.5% of the vote, against 38% for Democratic challenger Barbara Buono.
But emails and texts made public in January 2014 appeared to link a top Christie aide to the closure of traffic lanes feeding to the George Washington Bridge, one of the world's busiest, in September.
The move caused traffic chaos in the New Jersey borough of Fort Lee, whose mayor had declined to back Mr Christie in the election.
Mr Christie has denied all knowledge of the scandal and fired the staff member in question. But the US attorney's office in New Jersey is investigating the matter.