Somali pirates get life in jail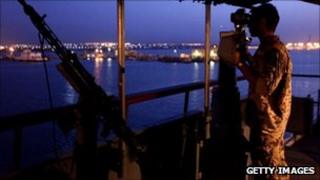 Two Somali men have been sentenced to life in a US prison for their role in the deadly hijacking of a yacht off the coast of Africa in February this year.
Muhidin Salad Omar and Mahdi Jama Mohamed were sentenced at a federal court in Norfolk, Virginia. The hijack left all four American yachters dead.
They were part of a 19-strong gang that seized the boat south of Oman, hoping to ransom the passengers.
More sentences are due in the case on Tuesday.
Two of Omar's accomplices were sentenced to life in prison in August. Three others are charged with murder and could receive the death penalty.
'Deep sorrow'
The men that boarded the yacht had planned to bring the Americans to Somalia, but then US Navy warships appeared.
Omar, the pilot of the pirate vessel, was one of two men who came aboard a US Navy ship to negotiate.
Navy officials told the pirates that they could take the yacht, the Quest, in exchange for the hostages.
According to court documents, they refused and said that the hostages were more valuable.
Mohamed, a guard on the 58-ft (17-m) boat, was cooking pasta when the shooting started, prosecutors told the court.
"I'm just a poor guy trying to support his family," said Mohamed, who expressed his "deep sorrow" for the deaths, and hoped the families of the victims would forgive him.
It is reported that the gang members who pleaded guilty have agreed to help prosecutors with their cases, and possibly others, in exchange for the possibility of having their sentences reduced and being deported.
Mohamed's lawyers said in court that he had agreed to help US Navy investigators to build a profile of pirates.
The owners of the Quest, Jean and Scott Adam of Marina del Rey, California, were shot dead, along with friends Bob Riggle and Phyllis Macay, of Seattle.
The four were the first Americans to die in a spate of piracy attacks in the Gulf of Aden.
Two of the pirates were killed by US forces and another two were found dead on the pirates' vessel. It is unclear how they died.