George Soros' sympathy for Wall Street protesters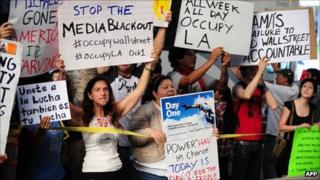 Billionaire investor George Soros says he can sympathise with the ongoing protests on Wall Street, which have spread to other US cities.
He said he understood the anger at the use of taxpayers' cash to prop up stricken banks, allowing them to earn huge profits.
A large rally is planned for Wednesday in New York City, with backing from union groups.
More than 700 protesters were arrested on Saturday on Brooklyn Bridge.
The demonstrations - based at Zuccotti Park, near Wall Street and the Federal Reserve - are now entering their third week.
Answering questions during a news conference at UN headquarters on Monday, Mr Soros said: "The decision not to inject capital into the banks, but to effectively relieve them of their bad assets and then allow them to earn their way out of a hole leaves the banks bumper profits and then allows them to pay bumper bonuses."
Mr Soros was announcing a gift of $40m (£26m) to a development project in Africa.
'Corporate zombies'
Protests continued on Monday in New York, with many under the Occupy Wall Street banner wearing make-up to pose as "corporate zombies", eating fake money.
One of the protesters, John Hildebrand, 24, an unemployed teacher from the US state of Oklahoma, told the Associated Press news agency: "My issue is corporate influence in politics. I would like to eliminate corporate financing from politics."
Union members are expected to back a large rally planned for Wednesday.
Last Thursday, the United Federation of Teachers and the Transport Workers Union, which has 38,000 members, pledged support for the protests.
In Los Angeles on Monday, an anti-Wall Street demonstration was held outside the court where Michael Jackson's doctor is being tried for manslaughter.
Protests were held in recent days in Boston, Los Angeles and Chicago in front of their respective cities' Federal Reserve buildings. A march was also held in Columbus, Ohio.
A rally is planned, too, for later this month in the Canadian city of Toronto.
On Saturday, 700 protesters were arrested on the Brooklyn Bridge, where traffic was halted for several hours.
The protesters won support from actor Alec Baldwin, who posted videos on his Twitter page that had already been widely circulated.
One appeared to show police using pepper spray on a group of women, and another a young man being tackled to the ground by an officer.
"This is unsettling," Baldwin wrote. "I think the NYPD has a PR problem."
But the NYPD said the marchers had been warned many times not to stray on to the road, and released video footage on Sunday showing protesters chanting "take the bridge".