Police respond to Onion's Capitol hostage spoof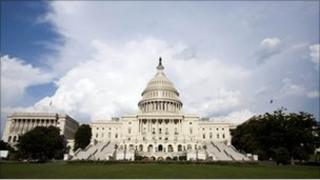 US police are investigating tweets by a satirical news website about a fake security alert at Washington DC's Capitol building.
The Onion said on its Twitter account that "screams and gunfire" had been heard inside the Capitol. It later said schoolchildren had been taken hostage.
Capitol Police said there was "no credibility to these stories", and that the security situation was "normal".
The Onion told the BBC that its Twitter account had not been hacked.
The website posted a tweet on Thursday morning which said: "BREAKING: Witnesses reporting screams and gunfire heard inside Capitol building."
It later posted another tweet promoting a spoof news article, headlined Congress Takes Group Of Schoolchildren Hostage.
In one of a series of tweets that followed, it said Congress was demanding a $12tn (£7.7tn) ransom "or all the kids die".
'Despicable'
The article - apparently poking fun at recent congressional budget showdowns - featured a mocked-up photo of Republican House Speaker John Boehner holding a gun to a girl's head.
US Capitol Police spokeswoman Sgt Kimberley Schneider told the BBC there would be a "full law enforcement" investigation into the matter.
The Onion's posts prompted a blizzard of responses on Twitter.
"@TheOnion You people are despicable", one tweeter wrote.
Another said: "@TheOnion Very poor taste."
But others saw the funny side and defended the website.
"#TheOnion if anyone takes their stories and tweets serious, then you CLEARLY do not understand satire," said a tweeter.
The spoof came hours after police announced a man had been arrested accused of plotting a terrorist attack in the heart of Washington DC.
Recent opinion polls have indicated voters are deeply dissatisfied with US Congress members.