USS Cole: Guantanamo tribunal for Yemen bombing suspect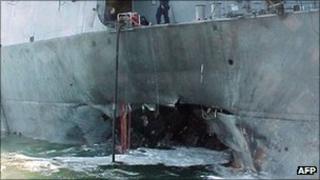 The prime suspect in the 2000 bombing of the USS Cole will face a military tribunal in Guantanamo Bay, US defence officials have said.
Abd al-Nashiri, a Saudi of Yemeni descent, could face the death penalty if he is convicted.
The ruling, issued by the US Department of Defense, means the US must bring him before a military judge within 30 days.
At least 17 sailors were killed and 40 were wounded in the attack in Aden on 12 October 2000.
Barring a late plea, the tribunal will be the first death penalty case at the base under US President Barack Obama, who had previously pledged to close Guantanamo.
Waterboarding admission
The charges against Mr Nashiri allege he was head of "planning and preparation" for the attack on USS Cole, during which two suicide bombers rammed an explosives-laden boat into the guided missile destroyer, blowing a vast hole into its side.
Other charges against him include murder, attempted murder, conspiracy, terrorism and using treachery or perfidy.
Mr Nashiri is also accused of plotting an attempted strike on USS The Sullivans in the same port in January of the same year.
And the US also accuses him of planning an attack on a French oil tanker MV Limburg in the Gulf of Aden in 2002.
One crew member died in the oil tanker attack, which caused a spill of some 90,000 barrels of oil.
Mr Nashiri is one of three detainees the CIA has admitted to waterboarding, a simulated drowning technique that has been widely condemned as torture by foreign governments and human rights organisations.
At a closed hearing in 2007, the suspect said that he had confessed to the USS Cole bombing because he had been tortured by his interrogators.
According to documents released in 2009, the Saudi national underwent waterboarding dozens of times.
His lawyers have argued that he should not face execution because of the treatment he faced while in detention.
"We think there were a lot of compelling reasons to say it shouldn't be a death penalty case but we're not surprised at all," said one of his lawyers, Rick Kammen.
But the Pentagon official overseeing the process has ruled that, if found guilty, the defendant can face execution.