Washington Monument gets exterior inspection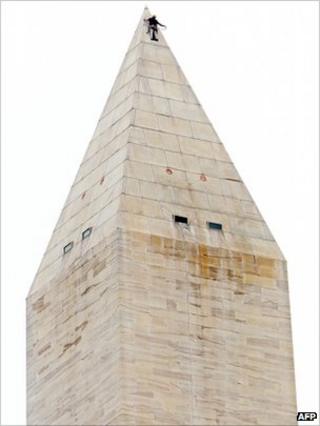 Engineers have been abseiling from the top of the Washington Monument for a closer inspection of damage from last month's earthquake.
The not-for-the-faint-hearted exterior inspection of the obelisk, which has numerous cracks, is expected to last for five days.
The National Park Service says the 555ft (169m) monument will remain closed indefinitely to visitors.
But the stone needle in the US capital is said to be structurally sound.
The engineers will focus on the pyramidion, where the monument begins narrowing to a point.
An earlier inspection by helicopter found a four-inch crack in the pyramidion.
Follow-up inspections from inside the monument - which is world's tallest stone structure - detected several smaller cracks.
Officials say it is possible to see through to the outside in some sections.
After this week's work, the park service will plug the cracks to keep water out during the winter.
"The good news: the monument is structurally sound and is not going anywhere," said Bob Vogel, superintendent of the National Mall for the National Park Service.
Mr Vogel also said he hoped a timetable for repairs would be announced next month.
Officials have made public CCTV images showing tourists seeking cover as the 5.8-magnitude earthquake shook the monument's observation deck near the top.
The monument was erected in honour of the first US President George Washington in 1884.
The 23 August tremor rattled the US East Coast, but caused no deaths or serious injuries.