Dominique Strauss-Kahn wants end to New York civil case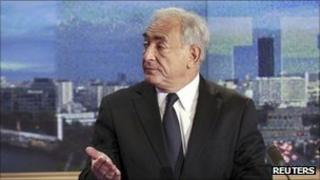 Dominique Strauss-Kahn says a civil case brought against him by a hotel maid alleging sexual assault should be dropped because of diplomatic immunity.
Lawyers for the former IMF chief say he kept his right to immunity as an international official between his May resignation and his return to France.
Mr Strauss-Kahn returned to France on 4 September after New York prosecutors dropped a criminal case against him.
He faces another sex assault allegation there, from writer Tristane Banon.
The New York civil suit, filed in August, seeks unspecified damages over a sexual assault alleged to have taken place on 14 May 2011.
In a filing with the New York state Supreme Court in the Bronx, Mr Strauss-Kahn's lawyers added that allegations by Nafissatou Diallo impeded the IMF "at a time of worldwide financial crisis and instability".
'Moral error'
Before the criminal case, Mr Strauss-Kahn was widely considered a strong candidate for the French presidency in 2012.
He has consistently denied sexually assaulting Ms Diallo, a Guinean-born immigrant who worked as a maid in the Sofitel hotel where Mr Strauss-Kahn was staying.
Although Ms Diallo's accounts of the assault never changed, Manhattan District Attorney Cyrus Vance said she told a series of lies about her past and what happened after the assault.
The criminal assault charges against Mr Strauss-Kahn were dropped in August.
In an recent interview with French media, he called the encounter a consensual "moral error".
In France, Tristane Banon alleges that Mr Strauss-Kahn attempted to rape her in 2003 after she met him on a promise of an interview.
French officials have confirmed that both will present their cases in front of prosecutors, but have not given a date.