Herman Cain wins Republican straw poll in Florida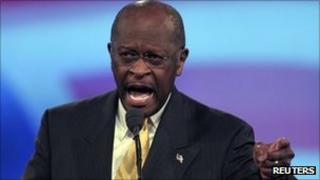 Georgia businessman Herman Cain has won a surprise victory in a Republican presidential straw poll in Florida.
Mr Cain secured 37% of the vote, beating Texas Governor Rick Perry (15%), the current frontrunner for the Republican presidential nomination.
The result is seen as a further blow to Gov Perry, who struggled in the party television debate earlier this week.
Massachusetts Gov Mitt Romney, who is seen as another top-tier candidate, finished third in the non-binding poll.
Further back were former Senator Rick Santorum, Congressman Ron Paul, former House Speaker Newt Gingrich, former Utah Gov Jon Huntsman and Congresswoman Michele Bachmann.
The straw poll is seen primarily as a popularity contest among the delegates selected by local party organisations.
The results are unlikely to change the current campaign's standings.
The contenders are vying for the Republican nomination to face President Barack Obama in the November 2012 election.
The field is expected to narrow in the coming months as the Republican race heats up ahead of primary season early next year.