Diana Nyad defies jellyfish stings in Cuba-US swim bid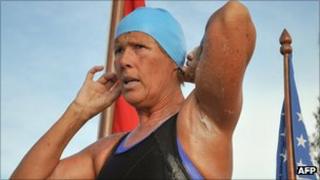 Endurance athlete Diana Nyad is continuing her bid to swim 103 miles (166km) from Cuba to Florida - after stopping to receive medical treatment.
She was given treatment on a support vessel after being stung, apparently by a jellyfish, around her face and eyes.
The 62-year-old set out from the Cuban capital Havana at 18:00 local time (22:00 GMT) on Friday.
The Los Angeles woman is looking to break her own record for open-water swimming without a shark cage.
Her first attempt at the swim, in August, was cut short by an 11-hour asthma attack.
'Better shape'
"She's back in," her team posted on her website, adding that she re-entered the water at 12.20 local time (04:20 GMT) on Sunday. "She is accompanied by three shark divers and the swim has resumed," they wrote.
Earlier, they had posted a message from the International Swim Federation saying that Ms Nyad could continue her record-breaking swim attempt if she had been removed from the water for medical treatment only - and not to rest.
They said that, at just before 20:00 local time, she had been stung "by some kind of presumed jellyfish... her face and eyes and the area around her eyes are affected".
This followed "numerous" stings from jellyfish-like Portugese man-of-war along both of her arms, the side of her body and her face just two hours into the swim.
But jellyfish are not her main hazard in the shark-infested waters.
A white-tipped shark was spotted nearer Ms Nyad - who is swimming between a three-boat flotilla - on Saturday afternoon, but one of her divers scared it off.
As well as her support team, Ms Nyad is using equipment that creates an electric current strong enough to keep most sharks away, but is imperceptible to humans, instead of a shark cage.
Ms Nyad has said she thinks of the August attempt as a unplanned dress rehearsal.
"The asthma took me down, but ironically enough, that 29-hour swim was like a very, very expensive training swim," she said before her swim.
"I'm in better shape than before. I'm more prepared than ever."
Ms Nyad first attempted the Cuba-Florida crossing, inside a steel shark cage, in 1978 when she was 28, but heavy seas forced her to give up after almost 42 hours in the water.
A 22-year-old Australian, Susan Maroney, completed the swim - in a shark cage - in May 1997, Reuters news agency reports.
Ms Nyad has said she hopes the swim will inspire others to lead active lives as they age, as well as help foster an increased understanding between the US and Cuba.