US justice department paid $16 for muffins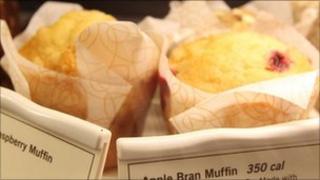 Muffins costing $16 (£10) and biscuits at $10 were among the "extravagant and wasteful" conference spending by the US justice department, a report has found.
Critics voiced outrage at the spending shown in the internal audit, including $8 coffees and $32-per-person snacks.
The justice department said it accepted the findings, adding that it had taken steps since 2009 "to ensure that these problems do not occur again".
The US owes more than $14tn and has an annual budget deficit topping $1.4tn.
The report found that the justice department had spent $4,200 on 250 muffins at an August 2009 legal conference at a hotel near the White House.
A justice department spokeswoman told reporters that took place at a time when there were no strict limits on food and beverage spending.
The department spent $121m on more than 1,800 conferences in 2008 and 2009 - exceeding its own spending limits, according to the audit.
It spent $600,000 just on planning for five conferences.
The department said it had already taken action to reduce conference spending, which it said had fallen the first six months of this year.
But Republican Senate Judiciary Committee member Chuck Grassley said in a statement: "People are outraged, and rightly so."
He said the report showed a congressional "super committee", charged with cutting at least $1.2tn in federal spending, where the axe should fall.