Jose Padilla terror sentence ruled too short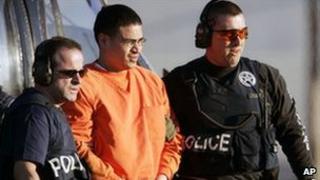 A US appeal court has ruled that a 17-year sentence for convicted terrorism plotter Jose Padilla is too lenient.
The court ordered a new sentencing hearing for Padilla, who was jailed in 2007 for terrorism-related offences.
Padilla's al-Qaeda training gave him "a heightened risk of future dangerousness", the majority of the judges wrote in their statement.
Before being sentenced, Padilla had been arrested 17 times and received al-Qaeda training.
The appeal court ruled on Monday that district court Judge Marcia Cooke had wrongly discounted several factors when sentencing Padilla, including his criminal record and training at an al-Qaeda camp in Afghanistan.
The appeal court also faulted the trial judge's decision to take into account the circumstances of Padilla's capture and jailing when sentencing him.
"Although some downward variance is allowed in this circumstance, the district court abused its discretion," said the ruling by Chief Judge Joel Dubina.
Dissenting Judge Rosemary Barkett disagreed, and warned that the appeal court's judgement "simply substitutes this court's sentencing judgment for that of the trial judge".
Padilla's defence attorney says he will use Ms Barkett's dissent to have the circuit court reconsider the sentencing or to bring the case to the US Supreme Court.
Former President George W Bush declared Padilla an enemy combatant after his arrest in Chicago 2002, saying he possessed valuable intelligence about the personnel and activities of al-Qaeda.
Padilla attempted to sue top government officials for being held without charge for more than three years and for the alleged torture he suffered at a jail in South Carolina.
A US judge threw out that suit in 2008.