Tycoon's lifeline to Canadian island prompts mixed reactions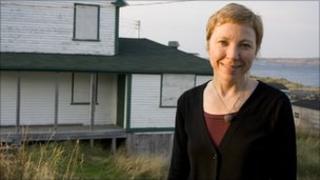 Zita Cobb, a multimillionaire in the high tech industry, has returned to her remote childhood island home off Newfoundland to save its endangered rural community from extinction.
Fogo Island was once driven by the cod fishery, but a moratorium on cod fishing in 1992 has left the majority of its inhabitants out of work.
Despite diversifying by selling shrimp and crab, many islanders were worried they might be forced to resettle on Newfoundland's mainland.
Ms Cobb decided to step in. "I felt that home was under threat and you know it's my watch, it's my time to do something," she says.
She left home at 16 to go to university and had an extremely lucrative job in the IT business.
After retiring, she decided to start an economic renaissance on Fogo Island and the surrounding Change Islands, which are accessible only by ferry.
'What's not to love?'
The islands nestle off Newfoundland's north-east coast. Puffins and icebergs are familiar sights to the 2,700 residents on Fogo Island and the 250 on the Change Islands.
Traditional salt-box houses are scattered on top of rugged rocks here. Fishing boats sway on the shore line.
This is how the first settlers from England and Ireland adapted to this dramatic terrain when they settled the island in the late 17th Century.
"The rocks here are 450 million years old almost. What's not to love about all that knowledge? Those rocks watched us come here," says Ms Cobb.
Not much changed on the islands until recently when Ms Cobb created jobs with her charitable organisation, the Shorefast Foundation.
It gives all profits back to the islands and is dedicated to making Fogo Island and the Change Islands a world-class destination for cultural, culinary and geo-tourism.
She picked the name Shorefast for her charity because a shorefast is a tether that anchors a cod trap to the shore.
It's a metaphor for the positive work she is trying to do in her childhood home. She hopes that her community and culture will always be shorefast on these islands.
"There has been a devastating loss of cultures everywhere and it's a tragedy every time something like that happens. But maybe ours doesn't have to go and that's the thing. I think we have a chance at hanging on," says Ms Cobb.
Shorefast's economic renaissance is doing more than just helping the locals to hang on to their culture.
It's keeping many of them very busy with jobs renovating houses and with the building of a new 29-room, five-star inn, which will target extremely affluent guests when it opens in 2012.
Fears over 'strangers'
All but one of the 45 people working on the construction of Fogo Island Inn are residents of the island itself.
"We have 10 different communities on the island," says Dave Torraville, the Construction Supervisor at the inn.
"We do have employees from all over, we try to equal it all out so it's not just strictly all one community getting the work."
New faces are also appearing on the islands.
As word spreads about the renaissance here, more tourists are visiting.
A dozen artists from around the world each year arrive on Fogo Island to spend three to six months here as part of a new artist-in-residency programme run by Shorefast's Fogo Island Arts Corporation.
The artists live in renovated traditional salt-box houses among the locals and work in new modern artist studios specially built and designed for them.
Having strangers on the islands is a development some of the residents aren't thrilled about either.
"I don't have to lock my door when I come and I go to bed, but when tourists come now and things get busier then the safety won't be the same as it is now," says Ashley Decker, a 26-year-old ice cream seller and school bus driver who has lived on Fogo Island her whole life.
"Things started changing only a short time ago, a year or a year-and-a-half ago when people started to stay in the houses that Zita has done."
Rush hour on the ferry is also a new phenomenon now that more tourists are coming to the islands.
The ferry operates about six times a day from the mainland to Fogo Island and the Change Islands. It runs on a first-come, first-served basis.
"The ferry service can't handle the amount of people that's travelling back and forth," says Ms Decker.
"You have to leave a lot earlier in the morning and maybe send vehicles across the night before to try to get off the island."
"Most of the reasons why we go off the island is for doctor's appointments or dentist's appointments, things like that. Which make it difficult for us to do those things, the simple things in life."
Negative comments
Despite some of the negative changes Ms Decker is still happy to see progress happening now.
"Because of this I can live home here and I can find jobs and I can make a living and I can raise my children here where their grandparents are and where I grew up and where you know your neighbours and that's what I want," she says.
New microfinance loans given by the Shorefast Foundation are also allowing new businesses to spring up.
Ms Cobb's charity is also dedicated to bringing back cultural activities that were on the brink of extinction, such as the making of traditional wooden small punt boats.
Realising that they were "eight funerals away" from losing the knowledge of making these vessels, they created a boat-building programme in the high school and now hold the popular Great Fogo Island Punt Race to There and Back event each July.
It's a 10-mile boat race between Fogo Island and the Change Islands and attracts many locals.
Ms Cobb and the Shorefast Foundation have already spent more than C$6m (£3.9m) to revitalise the communities, while the federal and regional governments have invested C$5m in geo-tourism.
Despite all of the financial investments, Sandy Crawford, who works as a waiter at one of those new businesses, Nicole's Cafe, says he has heard a few negative comments about what the Shorefast Foundation is doing.
"I think it's just the overall change in the way of life here. I think that's the thing people are most worried about. People are worried it's going to make things more modernised."
Funnily enough, that's also Ms Cobb's worst fear: "Wouldn't it be a terrible thing if you drove down Fogo Island and saw franchise after franchise after franchise after franchise?
"There are traditional viewscapes that were usurped by other people's brands and other people's products that sucked the community culture out and our money out at the same time."
One thing is for sure: at least now the people of Fogo Island will have the chance to watch change occur from their own home on their own island.