US Marine Dakota Meyer awarded Medal of Honor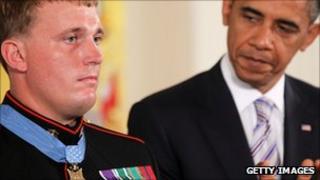 A US Marine has been awarded the Medal of Honor, a day after enjoying a beer with President Barack Obama.
Sgt Dakota Meyer, 23, received the nation's highest military award for saving 36 lives in Afghanistan in September 2009.
He and a group of US soldiers were training Afghan military members when the Taliban ambushed the patrol.
Sgt Meyer is the third living recipient of the medal for service in Iraq and Afghanistan.
Before reading the official citation, Mr Obama spoke about both the Marine's bravery and humility.
"Today we pay tribute to an American who repeatedly placed himself in the thick of the fight," Mr Obama said.
Kill zone
Sgt Meyer, who now works in construction and is in the Marine reserve, was on his lunch break when he took a call from the president informing him of the honour.
Senator Mitch McConnell, from Sgt Meyer's home state of Kentucky, and Navy Secretary Ray Mabus, were at the ceremony.
Marine Commandant Gen James Amos, 120 of Sgt Meyer's family and friends and the team with whom he served also attended.
Sgt Meyer was a corporal when the Taliban ambushed his patrol in Kunar province, Afghanistan, on 8 September 2009, according to the official Medal of Honor citation.
As the ambush intensified, Sgt Meyer defied his commanding officers' orders to jump into an armoured Humvee with a fellow Marine and brave an inferno of machine-gun fire, bullets, grenades and mortars.
He made a total of five trips into the kill zone - once on foot - to evacuate American and Afghan soldiers.
Sgt Meyer manned the exposed gun-turret of the truck and killed a number of enemy fighters while intense fire raked their vehicle.
On each trip Sgt Meyer searched for the forward patrol composed of his friends and fellow marines which, he heard via radio, had been cut off, the citation says.
Sgt Meyer continued to evacuate soldiers, many of whom were wounded, even after he suffered a shrapnel wound to his arm on the third trip.
Eventually, troops aboard a UH-60 helicopter told Sgt Meyer they had spotted four bodies. He knew those were his friends and he moved on foot on his fifth trip to get their bodies out.
Staff Sgt Juan Rodriguez-Chavez, who accompanied Sgt Meyer on some of the perilous trips, is to receive the Navy Cross for his bravery that day.
Later, an investigation into the deaths of Sgt Meyer's comrades accused two Army officers of being "inadequate and ineffective" and for "contributing directly to the loss of life".
'I'm no hero'
Mr Obama told Sgt Meyer: "Dakota, I know you've grappled with the grief of that day, that you said your efforts were somehow a failure because your teammates didn't come home.
"But as your commander-in-chief, and on behalf of everyone here today and all Americans, I want you to know it's quite the opposite."
"In Sergeant Dakota Meyer, we see the best of a generation that has served with distinction through a decade in war," Mr Obama added.
At Sgt Meyer's request, memorial services were organised in the hometowns of his fallen comrades on Thursday, as he received the Medal of Honor.
"It's hard, it's... you know... getting recognised for the worst day of your life, so it's... it's a really tough thing," Sgt Meyer told reporters.
In an interview with NBC News, Sgt Meyer denied he was a hero.
"I'm the furthest thing from a hero," he said. "Every man and woman who serves is a hero."
On the eve of the official ceremony, Sgt Meyer and Mr Obama chatted informally one-to-one over a beer on a patio outside the Oval Office, at the Marine's request.
Sgt Meyer, appearing on CBS's The Early Show ahead of the ceremony, said he took the opportunity to ask the president what he thinks it takes to be successful.
"You know, first thing, get an education and just take it slow and don't try to make any rash decisions," he said Mr Obama told him.