US: Guatemala tests were 'shocking' double standard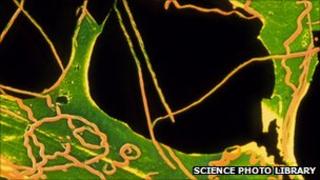 US researchers who exposed hundreds of Guatemalans to sexually transmitted diseases committed "unconscionable basic violations of ethics", a US health commission has found.
Some 1,300 were infected with syphilis, gonorrhoea and other STDs without their knowledge in the 1940s.
Many of the same researchers had earlier sought consent from prisoners in a US study.
The commission says scientists tried to limit who knew about the tests.
A report by the US Presidential Commission for the Study of Bioethical Issues said on Tuesday that the research had been a "dark chapter of our medical history".
"In the commission's view, the Guatemala experiments involved unconscionable basic violations of ethics, even as judged against the researchers' own recognition of the requirements of the medical ethics of the day," said Dr Amy Gutmann, chair of the commission, in a statement.
'Shocking double standard'
It has already emerged that 5,500 Guatemalans were involved in the research by the US Public Health Service.
Of these, some 1,300 prisoners, psychiatric patients and sex workers were deliberately infected with syphilis, gonorrhoea or another sexually transmitted disease, chancroid.
Only about 700 received some sort of treatment.
In previous tests by many of the same researchers on prisoners in Terra Haute, Indiana, those participants were asked for their consent.
The lack of the same consideration in Guatemala showed a "shocking" double standard, Dr Gutmann said.
"A civilisation can be judged by the way that it treats it most vulnerable individuals," she continued.
"It is our moral responsibility to care for those who cannot protect themselves and clearly in this dark chapter of our medical history we grievously failed to keep that covenant."
The tests were carried out with a view to applying the research to soldiers abroad.
US President Barack Obama set up the commission when the experiments, carried out over several years in the 1940s, first came to light last year.
He also apologised to his Guatemalan counterpart, Alvaro Colom, saying the acts ran contrary to American values.
Earlier this year, a group of Guatemalans who were involved in the study announced they were suing the US government over the affair.