US film actor Cliff Robertson dies aged 88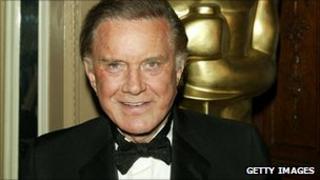 Oscar-winning Hollywood actor Cliff Robertson has died at the age of 88.
He played a young John F Kennedy in the biographical 1963 film PT-109 and won an Academy Award in 1968 for his performance in Charly as a mentally disabled man.
Robertson remained a popular TV and film actor from the mid-1950s onwards. He later found a new generation of fans as Uncle Ben in the Spider-Man movies.
His secretary said he had died in New York state of natural causes.
"My father was a loving father, devoted friend, dedicated professional and honourable man," his daughter Stephanie Saunders said in a statement quoted by Associated Press news agency.
"He stood by his family, friends, and colleagues through good times and bad. We will all miss him terribly."
Based on the award-winning book Flowers for Algernon, 1968's Charly saw Robertson play mentally disabled bakery worker Charlie Gordon - the subject of an experiment to increase human intelligence.
He starred in the film opposite the English actress Claire Bloom.
In 1972, Robertson made his debut as a director on J.W Coop, a film he co-wrote and starred in as an ageing rodeo cowboy.
Robertson was blacklisted by Hollywood for several years after blowing the whistle on a studio chief who was subsequently accused of embezzlement.
Columbia Pictures head David Begelman pleaded no contest to charges of grand theft and was fined and sentenced to three years' probation, though he was hired to run MGM three years later.
In 2002, Robertson was cast as Peter Parker's kindly uncle Ben in Sam Raimi's adaptation of Spider-Man. Despite being killed in the first film, he appeared in flashback in the following two movies.