Southwest blackouts: How do power outages spread?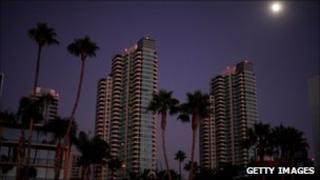 A blackout leaves five million without power in a major city in southern California and parts of Mexico overnight. How does this happen?
A combination of human error, a series of hot days and cascading failures created a massive power outage for millions in the area.
It started at the North Gila transmission substation outside of Yuma, Arizona, a city wedged in between the borders of Arizona, California and Mexico.
Arizona Power Systems (APS), the company that operates the substation told the BBC that power had been cut near a major transmission line after an employee replaced a capacitor, a piece of equipment designed to regulate voltage.
The company said it was unsure why the power then tripped, but the effects travelled fast.
The transmission line carries 500kV (kilovolts) of electricity to supply a major part of southern California's power, including San Diego and parts of Baja California in Mexico.
It is a "very substantial artery" of power, said Rajit Gadh, a professor of electrical engineering at UCLA and an expert on smart grid technology.
A sudden cut of the supply would create a cascading effect to smaller grids in the area, under stress to "fill-in" the loss of electricity from their own systems.
A cascading failure problem caused a major blackout in the US northeast in the summer of 2003.
Several days of high temperatures, with a rise in energy consumption, would increase the risk of failure.
"If you don't isolate the problem, it can move to other parts quickly, and lead to cascading failure," Mr Gadh said. As stressed connected power lines fail, it becomes increasingly likely the other local grids they are connected to fail as well.
It is an exponential effect, Mr Gadh said, unless systems can be isolated quickly - a tough task for an energy source that moves close to the speed of light.
APS said its own systems should have isolated the power outage. Why that did not happen will be the primary cause of its investigation, spokesman Damon Gross said.
Several minutes after the power was cut to the transmission line, the cascade shut down the San Onofre Nuclear Generating Station and San Diego's second major source of power, north of the city.
President of San Diego Gas and Power Michael R Niggli said the power station shut down as a safety precaution.
"The transmission line essentially caused a big ripple effect and the sensing devices would have picked it up and disconnected the station," he said.
San Diego and nearby towns were entirely without power. Crews are working on Friday to restore the full system.