Magnitude-6.4 quake hits off Vancouver Island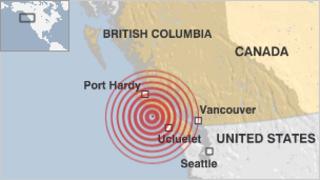 A magnitude-6.4 earthquake has hit near Vancouver Island, Canada, the US Geological Survey (USGS) says.
The epicentre of the quake, which hit at 12:41 local time (19:41 GMT), was 289km (179 miles) west of Vancouver, the USGS reported.
The quake occurred a depth of 23km (14.3 miles), the USGS added. Eyewitness accounts say buildings swayed in central Vancouver.
However, no tsunami warning has been issued.
The closest major settlement, Port Hardy - with a population of over 5,000 - has received no reports of damage caused by the earthquake.
Police in Seattle, more than 200km away in the US state of Washington, said tremors were also felt there, but there were no reports of damage.