Hurricane Irene: Obama pledges help to storm-hit states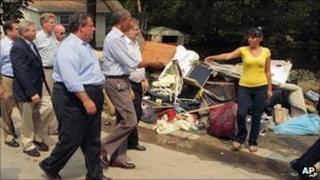 US President Barack Obama has promised federal aid to east coast areas struck by Hurricane Irene, during a tour of the badly-hit state of New Jersey.
Mr Obama said the government would "meet our federal obligations" by doing everything necessary to help communities rebuild.
Hurricane Irene caused an estimated $10bn (£6bn) worth of damage.
Tropical Storm Lee, which made landfall in Louisiana on Sunday, has now been downgraded to a tropical depression.
Road-side debris
Speaking in Paterson, New Jersey's third-biggest city, Mr Obama said the "whole country was behind" communities affected by Irene.
"We are going to make sure that we provide all the resources that are necessary in order to help these communities rebuild.
"I know that there's been some talk about whether there's going to be a slowdown in getting funding out here, emergency relief. As president of the United States I want to make it very clear that we are going to meet our federal obligations," he said.
Earlier, Mr Obama met with residents who had been affected by the hurricane in the nearby town of Wayne.
Joined by New Jersey Governor Chris Christie, the president walked past flooded homes in an area where debris from the storm littered the curb.
"I know it's a hard time right now," Mr Obama told one group of people. "You guys hang in there. We'll do everything we can to help you," he added, according to Reuters news agency.
Mr Obama is expected to ask Congress for extra funds to help recover from Irene but is likely to face opposition from some Republicans, who want a reduction in government spending.
Last week, Eric Cantor, a Republican in the House of Representatives, said that any new disaster funds must be offset with spending cuts elsewhere to avoid adding to the budget deficit.
Hurricane Irene killed more than 40 people from North Carolina to Maine and deprived millions of people of electricity.
There are still 43,000 customers without power, a week after Irene raged up the east coast, including 17,000 in Connecticut, 12,000 in Virginia and another 12,000 in New York, mostly on Long Island.