Irene: @ElBloombito mimics Michael Bloomberg Spanish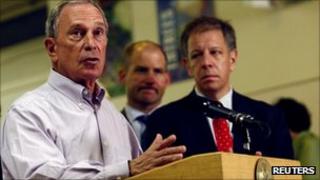 A Twitter feed set up by one New Yorker has become a surprise hit by caricaturing New York Mayor Michael Bloomberg's efforts to speak Spanish.
Rachel Figueroa-Levin, a stay-at-home mum, created El Bloombito to entertain friends stuck indoors while Tropical Storm Irene hit New York.
The feed soon went viral and has attracted a large online following.
Mayor Bloomberg frequently answers questions at press briefings in broken Spanish.
'Miguelito'
@Elbloombito captured the mood of the moment, with tweets offering public information in a mock-Bloomberg style.
Highlights include: "Los trainos y el bussos son muy operationo. Go to worko. No excuso!" and "No looto el bodega. Esta es Nuevo Yorko!"
New York has a very large Spanish-speaking population and the mayor's earnest effort to learn the language has been seen as an attempt to positively engage with the Latin community.
However, in an interview with the New York Observer, Ms Figueroa-Levin said that while "it's great that he wants to speak Spanish", the mayor's Spanish is "laughable".
In the days before Irene hit New York, Mayor Bloomberg issued warnings and press statements, often in basic, un-accented Spanish, to prepare New York City residents for what was expected to be a category one hurricane.
In response, @Elbloombito began tweeting in "Spanglish" on the topic of hurricane preparations and advice for New York city residents from a fictional mayor called Miguel Bloombito.
"I think that if he really wanted to get a message across to the Latino community he should have stepped aside and had someone who speaks Spanish fluently deliver the message," Ms Figueroa-Levin told the New York Observer.
She added, though, that she thought the mayor's administration had handled the approach of the the storm "very well".
Ms Figueroa-Levin said that the inspiration behind the name @Elbloombito was Gerson Borrero, a journalist and prominent Latin political commentator in New York.
He likes to call the New York mayor "Miguelito".