Irene: Obama warns storm still dangerous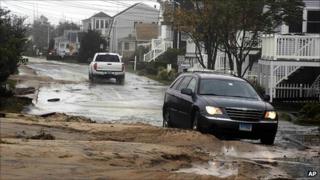 US President Barack Obama has warned that flooding and power cuts are still a risk as Tropical Storm Irene moves away north towards Canada.
The storm, downgraded from a hurricane, passed New York on Sunday, but Mr Obama said the danger was not yet over as swollen rivers could burst their banks.
More than 300,000 people evacuated from low-lying areas in New York City are being allowed back home.
The storm has killed at least 21 people and caused extensive damage.
The BBC's Laura Trevelyan in New York says Irene threatened 65 million people along the US east coast - thought to be largest number of Americans ever affected by a single storm.
More than three million people have been left without power in New Jersey, Connecticut and New York.
Widespread flooding is reported in Vermont where hundreds of people have been told to leave the capital, Montpelier.
The city faces flooding, once from Irene, and again if the local water company decides to release water to save the Marshal Reservoir, a local dam where waters are reaching record levels.
"It's very serious for us at the moment in Vermont. The top two-thirds of the state are inundated with rapidly rising waters, which we anticipate will be an issue for the next 24 hours," said Robert Stirewalt, a spokesman for Vermont Emergency Management Agency.
Manhattan avoided major damage, despite some isolated flooding.
"Many Americans are still at serious risk of power outages and flooding which could get worse in the coming days as rivers swell past their banks," Mr Obama said in a televised address from Washington.
"I want people to understand that this is not over. Response and recovery efforts will be an ongoing operation and I urge Americans in affected areas to continue to listen for the guidance and direction of their state and local officials."
He added: "I want to underscore that the impacts of this storm will be felt for some time and the recovery effort will last for weeks or longer."
'Good shape'
On Sunday, Irene's wind speeds eased to 50mph (80km/h). The storm headed into Canada still packing 50mph (80km/h) winds.
The BBC's Steve Kingstone in New York said insurance and rebuilding costs would run into billions of dollars.
Although the weekend was not the doomsday scenario that some had feared, Irene is leaving behind deep scars, he adds.
New York City lifted its evacuation order for 370,000 people and said it hoped to have its subway - closed for the first time by a natural disaster - operational again by Monday, although perhaps not early enough for morning commuters.
"All in all we are in pretty good shape," Mayor Michael Bloomberg said.
The New York Stock Exchange said it would be open for business on Monday and officials at the 9/11 memorial at the World Trade Center site said they had not lost a single tree.
However, experts said the dire warnings and the evacuations had been justified.
"They knew they had to get people out early - I think absolutely lives were saved," said Max Mayfield, former director of the National Hurricane Center.
In Philadelphia, officials lifted the city's first state of emergency since 1986. Several buildings were destroyed by the storm, but there were no deaths or injuries.
Airlines said about 9,000 flights had been cancelled, but services into New York and Boston were due to resume on Monday.
Further south in North Carolina, Governor Beverly Perdue said some areas of the state were still unreachable. TV footage showed fallen trees and power lines.
Officials in Virginia began the clear-up, but said the damage was not a bad as feared.
The north-eastern seaboard is the most densely populated corridor in the US. More than 65 million people live in major cities from Washington DC in the south to Baltimore, Philadelphia, New York and Boston further north.
Mr Mayfield said computer models were showing that clouds forming off the coast of Africa could threaten the US east coast in two weeks. The hurricane centre gave it a 40% chance of becoming a named storm over the next two days.
Irene was classified as a category three hurricane, with winds of more than 120mph (192km/h), when it swept through the Caribbean last week.