Hurricane Irene: New York issues evacuation orders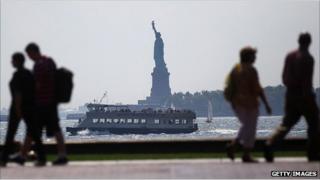 New York's mayor has issued the city's first-ever mandatory evacuation notices, as the US faces up to the arrival of Hurricane Irene.
Low-lying areas around Manhattan and into Staten Island are at particular risk, according to projections issued by city authorities.
The city's transport systems, including the subways and airports, are to shut from 12:00 on Saturday (16:00 GMT).
Irene, a category one storm, is due to hit a swathe of east coast states.
Bringing with it winds of up to 90mph (150km/h), extending across a 90 mile (150km) radius, Irene is due to make landfall in North Carolina on Saturday morning.
North Carolina, Virginia, Maryland, Delaware, New Jersey, New York and Connecticut have all been placed under states of emergency. The mayor of Washington DC also declared an emergency in the US capital.
'Unique' storm
While states further down the coast, such as North and South Carolina, have experience with hurricanes, few in New York have recent memories of severe tropical storms.
The city was last hit by a major hurricane in 1985, when Hurricane Gloria passed almost directly over the city and caused widespread damage.
Announcing the evacuation plans in New York, Mayor Michael Bloomberg insisted residents in all five boroughs needed to pay heed to the warnings and follow orders.
"We are today issuing a mandatory, I repeat the word, mandatory evacuation order for all New Yorkers who live in the low-lying zone A coastal areas in all five boroughs that are at greatest risk of damage relating to Irene.
"You only have to look at the weather maps to understand how big this storm is and how unique it is, and it's heading basically for us."
The evacuation orders cover an estimated 300,000 people, many of whom will be expected to leave immediately or be limited by a transport network shut down pre-emptively as Irene's wind and rain nears the region.
"Waiting until the last minute is not a smart thing to do," Mr Bloomberg said. "This is life-threatening."
Staying put
Ordinary life in New York is expected to come to a halt over the weekend as the city faces up to a storm forecast to remain a category one hurricane, with winds of up to 95mph (153km/h) when it arrives in the area.
Among the zones facing evacuation notices are the Battery Park district at the tip on Manhattan, and Coney Island, where locals and tourists alike usually flock in summertime.
Broadway shows, baseball games, music concerts and outdoor film festivals were all cancelled for the weekend, the New York Times reported.
Those remaining in place will need to wait out the storm, with subway systems closed and Amtrak rail services in the north-eastern US being shut down until the storm danger has passed.
Airports operating by the Port Authority of New York and New Jersey - including JFK, La Guardia and Newark - will close to arriving flights at the same time.
The airport closures are to prevent passengers being stranded at terminals when ground transportation is suspended, the Port Authority said.
However, the airports will remain open to departing passengers until further notice.
Abe Feinstein, 82, is one of those with memories of the last major hurricane to hit New York.
"I think I have nothing to worry about," he said. "I've been through bad weather before. It's just not going to be a problem for us."
Mr Feinstein, who lives in an eighth-floor apartment on Coney Island, told the Associated Press that he would be one of those staying put.
The elderly man, reliant on a walking frame to get around, said he had little choice.
"How can I get out of Coney Island? What am I going to do? Run with this walker?"