Dog thefts on increase in US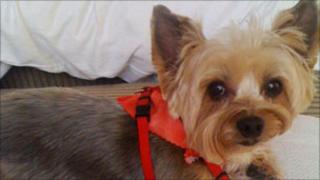 Dog thefts in the US have more than trebled in recent years, according to new figures. So what's behind the surge in stealing pet pooches?
Getting home in the afternoon to find your home ransacked would be distressing enough, but for Peggy Riley there was a much deeper sense of loss.
Her two nine-year-old Yorkshire terriers, Baxter and Cooper, had been stolen, making the theft of her laptop and the disturbance to her house in San Antonio, Texas, quite insignificant in comparison.
"I don't recall much, other than realising I was in the middle of the street, about two houses down from my home, screaming their names and crying uncontrollably.
"The distress has been to such a degree that I can't even explain. It's turned my life upside down. I don't have children so these are my babies."
Ms Riley, 48, has spent thousands trying to get them back, with another $10,000 (£6,000) standing by as reward for their safe return. Two private investigators are on the case, there are adverts in several newspapers and billboards, and a Facebook page appealing for their return.
She believes the thieves acted opportunistically but the Yorkshire terrier is one of the breeds that is being increasingly targeted by criminals who see valuable dogs as a revenue source in hard times.
New figures from the American Kennel Club suggest dog thefts are up 50% this year and have risen fourfold since the start of the recession.
Gunpoint robbery
"There are economic reasons behind this," says spokeswoman Lisa Peterson. "Criminals sell them on the internet to unsuspecting buyers or at flea markets or roadside sales. I've seen dogs stolen and then miraculously turn up again to get a reward from the owner."
The criminals strike in many ways, she says - breaking into a home, into a parked car or just snatching them in the street.
A family were playing with their pitbull terrier in Oklahoma when a man approached and asked some questions, says Ms Peterson. He followed them home and broke in the next morning, tied up the family at gunpoint and stole the puppy.
And in New York, a Maltese was stolen from its female owner's arms in the street, while in Idaho a similar attack was mounted against a girl holding her dog on a park bench.
It's a way to make a quick buck, says Russell Hess, director of the US Police Canine Association, but it's not new. It was also a problem in the 60s and 70s, when he was working in Ohio.
"We had dog thefts reported from time to time so it was happening before the recession but I'm sure it's increased due to the number of people that are needing money right now.
"The police do take it seriously but the more information and more leads that can be developed, the higher priority they give it.
All types of dogs are vulnerable, but particularly small breeds such as Yorkshire terriers and Pomeranians, which are popular and easy to carry.
It comes as prospective owners fork out more and more for a dog, according to the American Pets Products Association, up to $364 (£221) last year, from $221 (£134) in 2008. There are now 46 million Americans owning a total of more than 78 million dogs.
Such thefts first gained notoriety in the 1940s and 50s, when a series of high-profile ransom cases brought the practice into the public eye, helped by the release of the Disney film 101 Dalmatians in 1961.
But it was not until the Animal Welfare Act of 1966 that the practice was formally outlawed in the US.
'Like a death'
The spate in recent years appears to have been mirrored in the UK. Animal charity Dog Lost, which helps reunite missing dogs with their owners, says it is dealing with 150 reports a week, double the number of a year ago.
"It's rising and rising, and probably due to the recession," says the charity's founder, Jane Hayes. "It's a good way to make money because owners will pay anything to get their dogs back. One owner paid £25,000 and had to remortgage the family house."
The large sums involved reflect the way criminals are profiting from the deeply emotional bond between owners and their dogs, says Eve Adamson, author and contributor to US monthly magazine Dog Fancy.
People treat their dogs like children in so many ways, buying them presents, giving them good food and giving them expensive medical treatments. So the theft of a dog can feel like a bereavement, she says.
"People are likely to get extremely upset. It's how people would feel about the loss of a child. And it's become less fashionable to say 'Oh well, it's just a dog'.
"Criminals have been exploiting human emotions throughout time and this is just one more way to do that."