What now for Dominique Strauss-Kahn?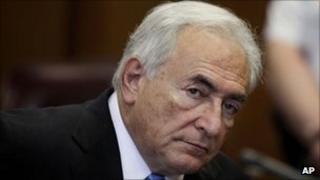 After all that has been written and alleged in these past three months it is hard to believe Dominique Strauss-Kahn could return to front-line politics in France - even less so to the presidential race in which he was once the front-runner.
But France is a country where the media and the voters have always been more forgiving of the sexual peccadilloes of their politicians, perhaps more so than any other European country.
Already there are senior figures within the Socialist Party who are beginning the rehabilitation.
Former culture minister Jack Lang believes he can return not to the presidential race, but as kingmaker and perhaps prime minister in a new Socialist cabinet.
These are difficult economic times in France. Mr Strauss-Kahn, the former head of the IMF, is a sharp, astute politician; on the economy his stature is unrivalled within the Socialist Party.
He was a huge asset - at one point a runaway favourite in the polls for next year's presidential election - and no wonder there are senior figures within the party who would like to see him return to the fray.
'Immensely relieved'
Francois Hollande, the new front-runner in the presidential race, hinted that if he wins next year Mr Strauss-Kahn could play a prominent role.
Asked if he could return to the race itself he said: "That depends on him. A man with the abilities of DSK can be useful to his country in the months and years to come."
Mr Hollande's closest rival Martine Aubry, the party leader and Mr Strauss-Kahn's close friend, echoed those sentiments.
"Obviously we have to wait for the judge to confirm this. But I am very happy," she said on hearing the news.
"I feel a lot of affection for Dominique and I am immensely relieved. We are all waiting for him to emerge from this nightmare. This is great news."
There are no clues as to when Mr Strauss-Kahn might return here to France. It has been suggested he may first travel to Washington to speak to former colleagues at the IMF.
Returning to the race?
The primary elections that will decide the Socialist candidate for next year's presidential election are not being held until 9 and 16 October, so in theory it is still possible for him to take part.
The Socialist Party has hinted it would consider his late application to stand - but it is highly unlikely. Many believe he will throw his support behind Ms Aubry, giving her the kind of heavyweight support that might give her the edge over Mr Hollande.
When the speculation first emerged that the case in Manhattan was about to collapse there were snap polls suggesting 60% of Socialist Party voters would support him if he decided to run.
Part of the story in France is the anger at the "unjust" way in which he was paraded and humiliated before the evidence had been heard. The "perp walk".
"He should now be left in peace," said Pierre Moscovici, another senior figure within the party, who had planned to support Mr Strauss Kahn's bid for the presidency.
"When a case like this has been put aside, you can't continue to make accusations against him. That goes for the woman - as well as the media."
Other allegations
But there are other stories of infidelity, betrayal and sleaze on which the media has focused - including the second allegation against Mr Strauss-Kahn that is still being investigated here in France.
Tristane Banon, an author, commentator and the goddaughter of Mr Strauss-Kahn's second wife, alleges he attacked her in 2003 while she sat to interview him in a Paris apartment.
Her mother Anne Mansouret, a Socialist politician, believed a criminal prosecution would tarnish her daughter's career and persuaded her not to press charges.
It has since emerged that Ms Mansouret, too, slept with Mr Strauss-Kahn - a consensual encounter, in which, she alleges, he behaved with the "obscenity of a soldier".
The case looks hard to prosecute. There is a lack of material evidence and Mr Strauss-Kahn may yet be exonerated. But the new Socialist front runner Francois Hollande was told of the incident and has already been interviewed by police.
In Tuesday's newspapers Ms Mansouret said she was "outraged" at the decision to drop charges in New York. She added that she was "revolted by the support he has had within the [Socialist] party", pointing to the sexual encounter that was proven by forensic evidence to have taken place.
'Machismo'
Sylvie Kauffmann, the first female editor of Le Monde, said the "DSK moment" will outlast the machismo of the political elite.
There is a tendency among men "to pretend that nothing has happened", she told the New York Times.
"In the establishment mind, this issue is not very important. The political class considers this issue of women and political attitudes toward women not so relevant. But I would bet that the average voter may feel differently."
And who would bet against women's rights playing a more prominent role in the upcoming presidential election.
In that sense his return to the political fold could backfire badly on the Socialist candidate next year, particularly since the resurgent Front Nationale and its leader Marine Le Pen will shift the attention to Mr Strauss-Kahn's past and his friends and associates within the party who knew - and said nothing of it.