Somali pirates given life in US prison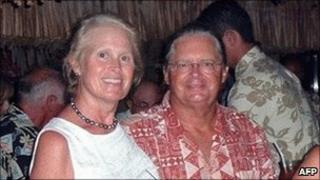 Two Somali men who pleaded guilty to piracy for a hijacking that ended in the deaths of four American sailors have been sentenced to life in prison.
Burhan Abdirahman Yusuf and Ali Abdi Mohamed are among 11 men who have pleaded guilty over the February hijacking of the S/V Quest off Oman.
The boat's owners and two guests were shot dead before American naval commandos could rescue them.
Three other men have been charged with murder over the attack.
The group of pirates were negotiating with the US military to release the Americans - Scott and Jean Adam, Bob Riggle and Phyllis Macay - when a rocket-propelled grenade was fired from the yacht at the guided-missile destroyer USS Sterett.
Gunfire then broke out inside the yacht, and US special forces were sent to investigate. The pirates killed their hostages before the troops boarded, the US military said.
The troops shot dead two pirates as they boarded and another two were found dead when they arrived.
Mohamed, 30, apologised on Monday as he received the life sentence, the Associated Press reported.
Also, a lawyer for Yusuf, who is 31, told a federal judge he wanted the two women released from the vessel before the fatal conflagration.
In May they pleaded guilty to piracy, which carries a mandatory life sentence. Their nine co-conspirators are to be sentenced in the coming weeks.
Ahmed Muse Salad, Abukar Osman Beyle and Shani Nurani Shiekh Abrar have been charged with murder and kidnapping over the deaths. They could face the death penalty if convicted.