'West Memphis Three' freed after 18 years in prison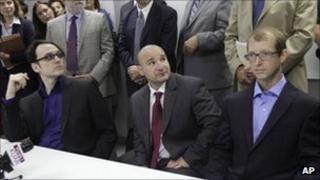 Three US men who say they were falsely convicted of murdering three boys have been freed after 18 years in prison.
Damien Echols, Jason Baldwin and Jessie Misskelley were convicted in 1994, but new DNA evidence raised doubts.
The so-called West Memphis Three were backed by celebrities who had raised money for their case.
They were freed from prison on Friday in a deal allowing them to claim innocence while agreeing prosecutors had enough evidence to convict them.
Speaking to reporters after they were freed, Baldwin said he had been reluctant to plead guilty to crimes he did not commit, but said he had wanted to spare Echols the death penalty.
'Satanic rite'
Echols said the release was "overwhelming".
"It's not perfect by any means," he said of the deal. "But it at least brings closure to some areas and some aspects."
Although families of two of the victims had come to believe the trio were innocent, an onlooker shouted "baby killers" as the men walked free from court.
The men were teenagers when they were convicted for the brutal May 1993 murder and mutilation of three eight-year-old boys who were found nude and bound in a ditch in West Memphis in the US state of Arkansas.
Steve Branch and Michael Moore drowned in about two feet (0.6m) of water, and Christopher Byers bled to death, his genitals mutilated and partially removed.
They were arrested after police received a tip that Echols had been seen covered in mud the night the boys disappeared, and Misskelley, 17, gave a surprise confession.
He later recanted and defence lawyers said he inaccurately described many of the details in the case.
In addition, two girls aged 12 and 15 said they had overheard Echols confess to the murders, while divers found a knife in a lake behind Baldwin's parents' house.
Prosecutors introduced a theory that the killings were some sort of satanic rite, and gave evidence they said indicated the three teenagers were part of a cult.
Echols, 18 at the time, was sentenced to death. Baldwin, 16, and Misskelley were sentenced to life in prison.
Decades of litigation ensued, and the trio, who became known as the West Memphis Three, gained celebrity supporters, including Pearl Jam frontman Eddie Vedder, who helped raise money for their legal defence.
They were also the subject of a 1996 HBO television documentary.
The actor Johnny Depp and Natalie Maines, lead singer of the Dixie Chicks, also embraced the trio's cause.
DNA testing conducted between 2005 and 2007 found no evidence linking the three men to the murder, but pointed to the possible presence of others at the scene of the crime.
Defence lawyers also alleged a juror had improperly heard Misskelley's confession.
Meanwhile, the mother of a witness who had testified she heard Echols confess to the murders cast doubt on the truthfulness of that testimony.
'Alford plea'
In the most recent round of appeals, the Arkansas Supreme Court last year ordered an evidentiary hearing to determine whether the DNA evidence should result in a new trial.
On Friday, prosecutor Scott Ellington said a new trial would have been difficult to carry out so long after the crime.
In the move that led to their release from prison, the men pleaded guilty under a so-called Alford plea that allows them to maintain their innocence while acknowledging prosecutors have enough evidence to convict them.
They were given credit for the time they had already served in prison, but remain on parole and could be imprisoned again for up to 21 years if they re-offend.
"Today's proceeding allows the defendants the freedom of speech to say they are innocent, but the fact is, they just pled guilty," Mr Ellington said.
"I strongly believe that the interests of justice have been served today."