US will review 300,000 immigrant deportation cases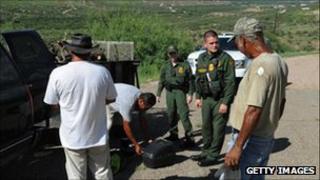 Illegal immigrants to the US who pose no threat to the public are likely to have deportation proceedings against them shelved, the Obama administration has announced.
Reviews will be conducted of about 300,000 illegal immigrants marked for deportation, Homeland Security Secretary Janet Napolitano said.
Republicans have argued the policy sidesteps Congressional lawmakers.
An estimated 11m illegal immigrants, most of them Hispanic, live in the US.
The new policy means many illegal immigrants who came to the US as children, have graduated from high school and want to enrol in college or the armed forces will be designated low priority for deportation.
'Ignoring the law'
Ms Napolitano said pursuing such cases merely clogged up courts, diverting resources away from deporting those who posed a threat to public safety.
In a letter to a group of senators, Ms Napolitano said undocumented convicted criminals would continue to be expelled from the country.
"From a law enforcement and public safety perspective, [Department of Homeland Security] enforcement resources must continue to be focused on our highest priorities," Ms Napolitano said.
The move has been applauded by advocates for a proposal known as the Dream Act.
The legislation would give illegal immigrants who came to the US as children a chance at legal status if they go to college or take up military service.
Julio Calderon, 21, a Florida college student and illegal immigrant from Honduras, who has been fighting a deportation order since he was 16, told the Associated Press: "It's an important step for the human rights of undocumented immigrants."
But Republican House Judiciary Committee Chairman Lamar Smith said the policy appeared to be aimed at overruling an immigration court's final order of deportation.
"The Obama administration should enforce immigration laws, not look for ways to ignore them," Mr Smith said.
Immigration reform advocates have accused the Obama administration of deporting too many illegal immigrants.
They say the president has failed to live up to a promise only to deport the worst of the worst.